Flute – BLACKMAN, Josiah
admin
An 8-keyed flute by the London maker Josiah BLACKMAN (1819-1886), made from Cocuswood with nickel silver keys, finger hole bushings and rings. The rings are beautifully decorated with the Guilloché technique … also called rose engine turning. This technique is rarely found with flutes. The original pewter plugs found in the foot joint are typical for that time.
Its total length is 665 mm and the sounding length (middle of embouchure to the end of the foot joint) is 580 mm. The flute plays wonderfully at a pitch of a=440 Hz with the tuning slide pulled out around 8 mm.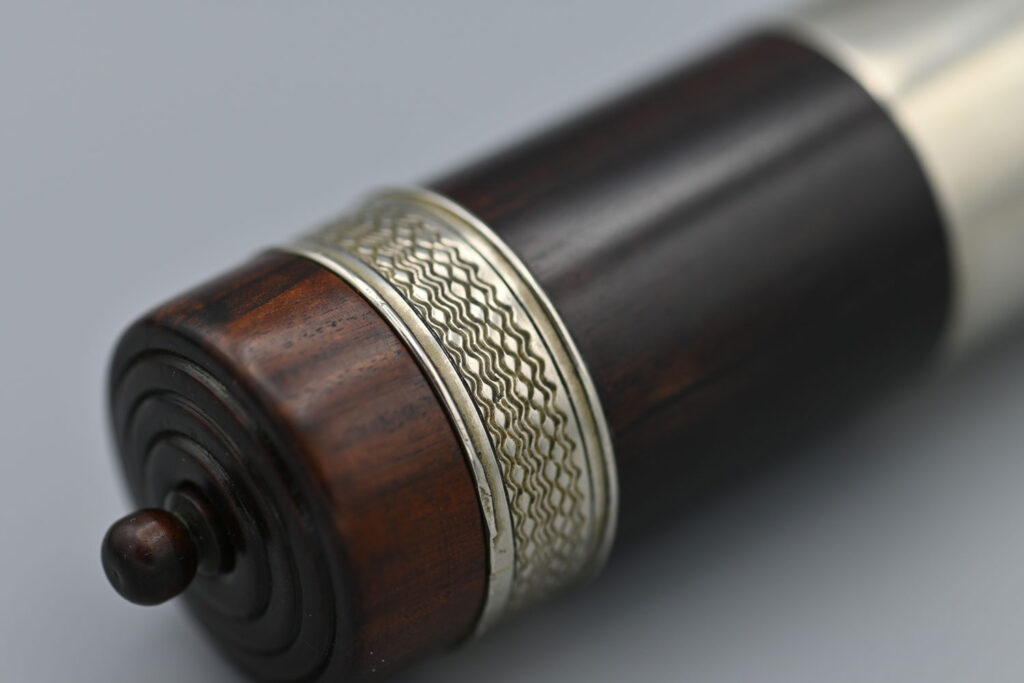 The flute can be dated to around 1850-1860. It was at that time that Josiah BLACKMAN was working out of 93 and then 120 Blackfriars Road. Josiah had taken over the music business from his uncle William BLACKMAN (1786-1845) who was never based in Blackfriars. He worked at this location concentrating more on fortepianos until the business later moved to Newington Causeway and was then sold.
The flute has been entirely restored by a professional, specialist flute maker. The restoration work included a new head joint cap and screwcork (the original one was missing), the bushing of the finger hole and reconstruction of the c key socket. The c key may itself not be original. Furthermore, all fine cracks were professional glued, the pads were replaced (silicon pads) and the tenons rethreaded. Finally, the whole instrument cleaned, polished and checked. A new beechwood case was made especially for this instrument 
A very rare and absolutely unique instrument, which can only be found nowadays in museums, like for example, the Library of Congress in Washington DC.