Fragonard love story-courting couple motif
admin
The terms Fragonard Courting Couple or Fragonard Love Story refer to a motif inspired by the work of the French artist, Jean Honoré Fragonard (1732-1806). Fragonard, born in Grasse, on the now French Riviera, was a painter and printmaker from the Rococo (Roccoco or Late Baroque) movement and later Neoclassical style. During his youth and study time, he toured Italy and was very taken and impressed by his surroundings. There he came across romantic gardens and pastures, with grottos, terraces, fountains and temples, which were a great inspiration to him. His works featured pastoral landscapes and romantic scenes of love with even cupids, cherubs and the odd mythical creature, just like his fellow Rococo painters. Their creations also involved portraiture, depicting aristocratic courting couples on leisurely outings or at secret meetings.
During this time, Fragonard depended on rich art patrons from the courts of the last two kings of France: Louis XV and Louis XVI. The French Revolution, which began in 1789, put an end to everything since most of his patrons were either guillotined or had to go into exile. Fragonard himself kept his head and went into exile instead… leaving Paris to later return and die there. He remained somewhat forgotten for many years afterwards.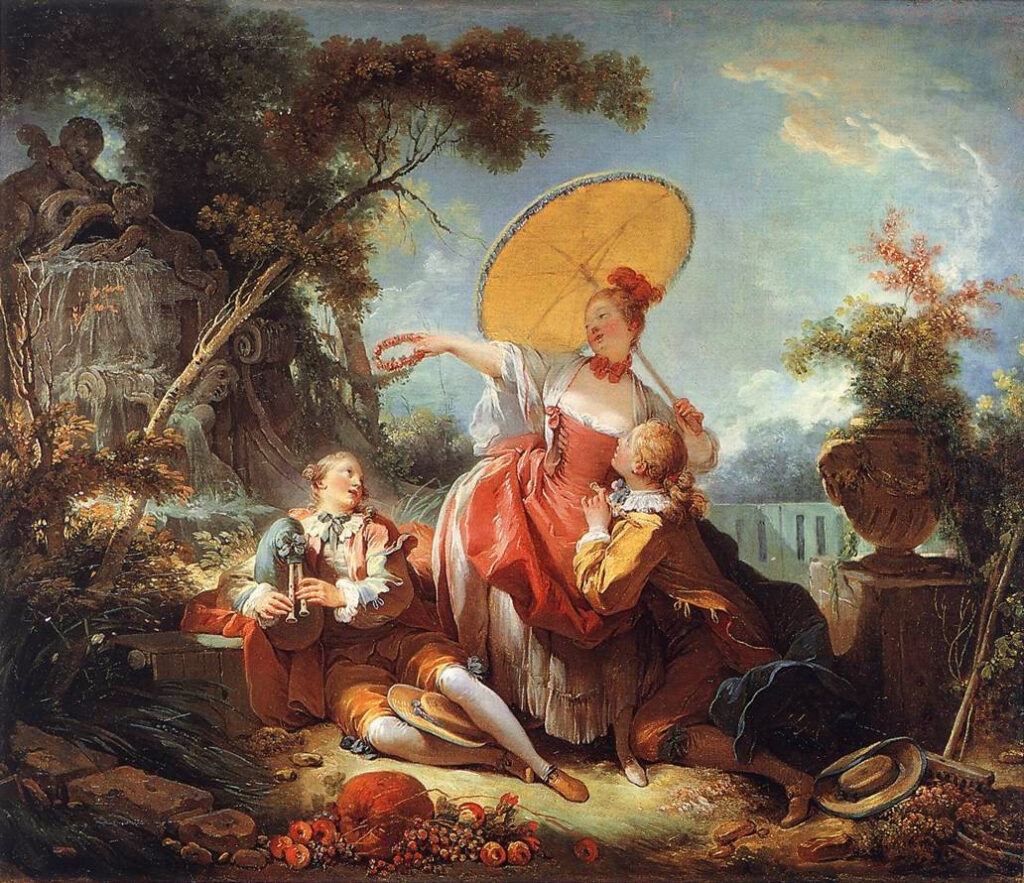 This motif has continued to be popular for many years, even reaching across the English Channel, where it experienced a revival in late Victorian times. It can be found on many items, such as plates, trinket boxes, cups, teapots or brooches.
Some collectables feature romantic scenes involving music and people dressed in beautiful,18th century clothing. Musicians serenade ladies while the ladies gaze in awe holding flowers. Lute and guitar players, flutists and dancers perform to the blushing ladies in question. After all what would be love without music? Or is it… what would be music without love?