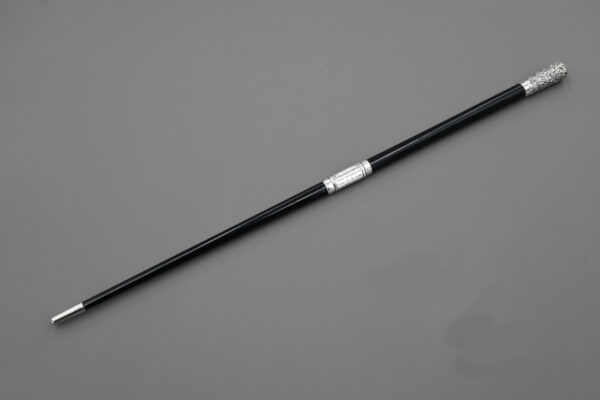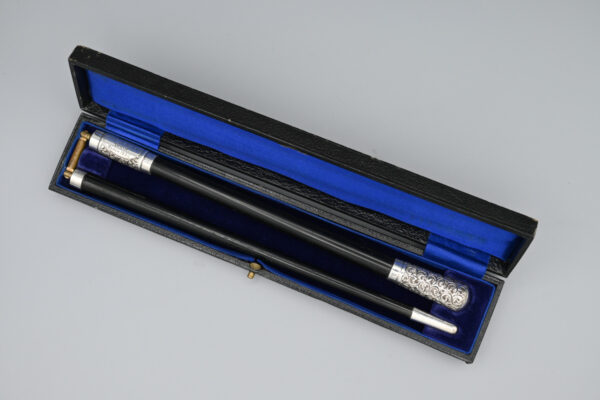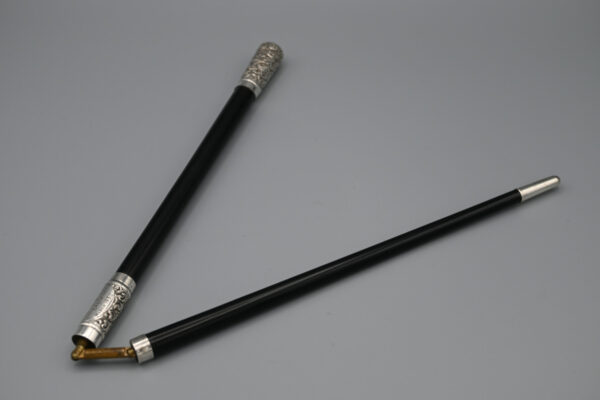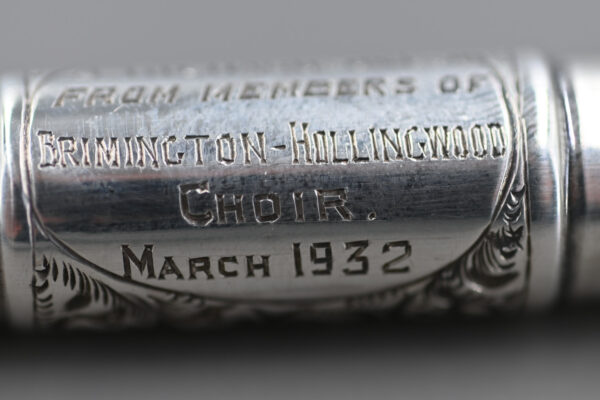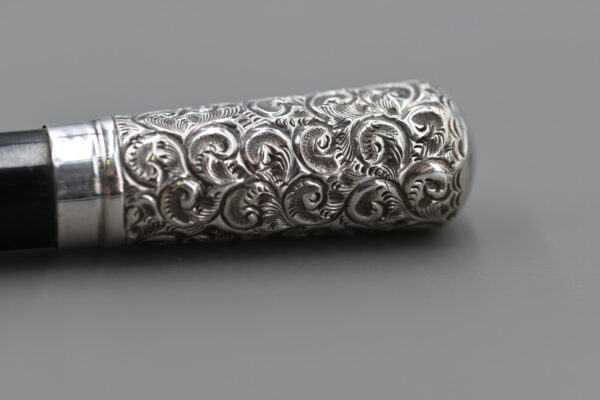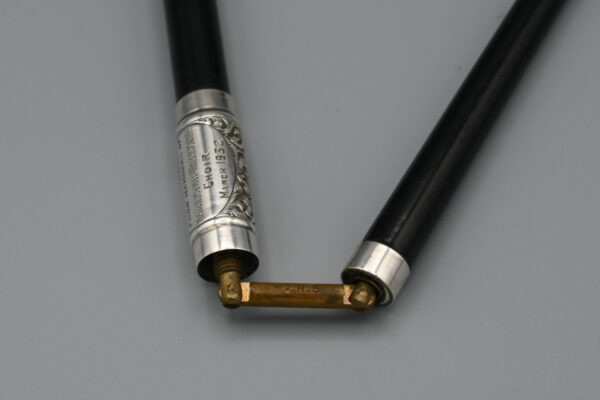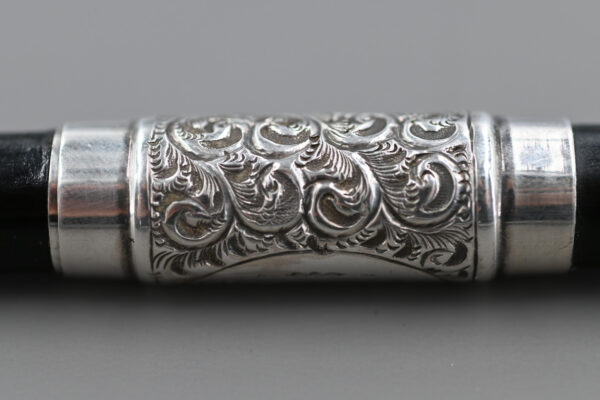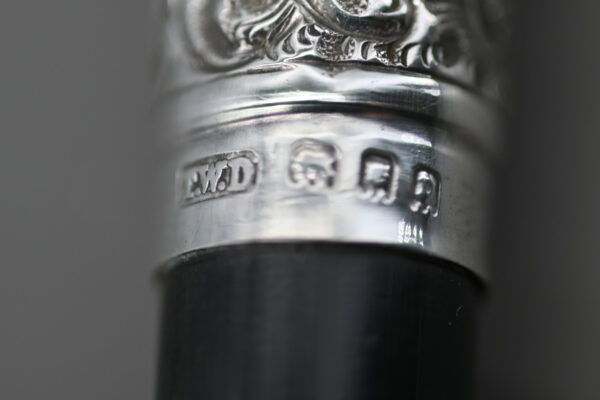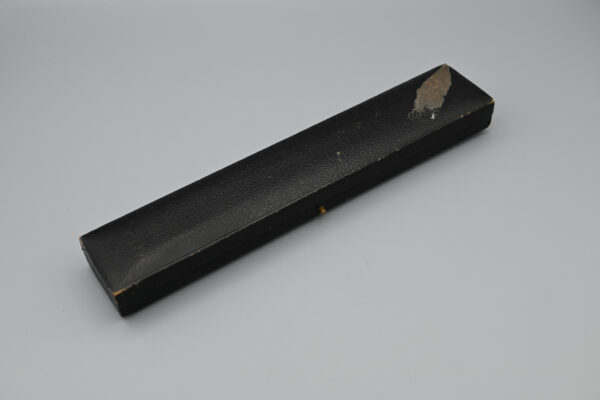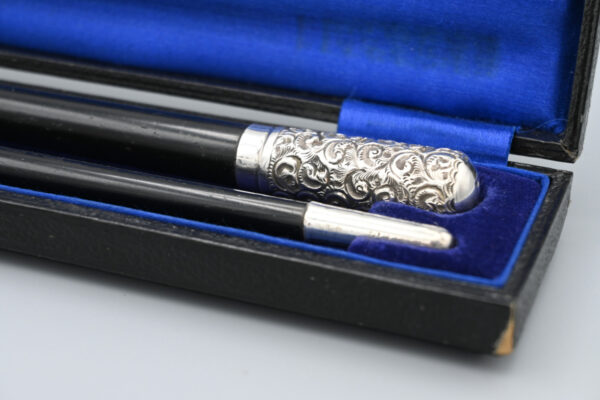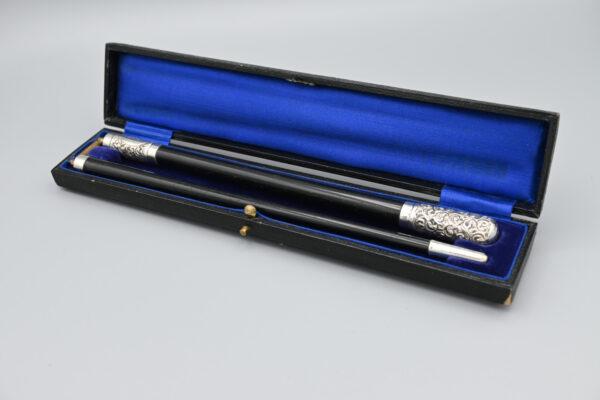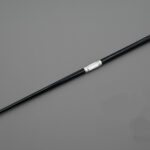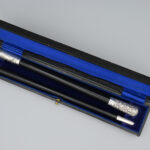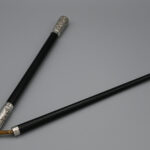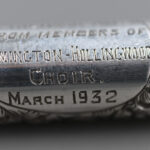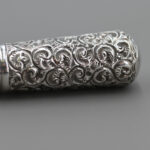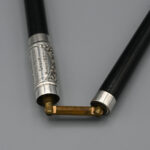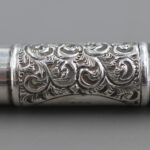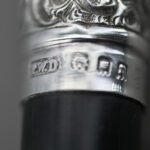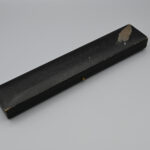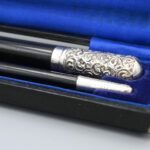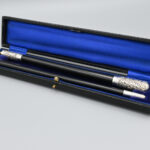 Silver mounted conductor's baton
290,00 €
Category

Music accessories

Marks and inscriptions

TWD

Period

1900-present

Place of origin

England

Description

Silver mounted ebony folding conductor's baton

Materials

Ebony , silver

Condition

Working condition

Accessories

Original case

Other distinctive features

Chased/embossed with scrolling foliage

Price (€)

€

290.00

Ref

37
Description
Silver mounted conductor's baton
A George V, silver mounted ebony folding conductor's baton in its original case. It has two sections that feature a hinged and screw-threaded mechanism to the centre. The silver pommel and mount are chased/embossed with scrolling foliage. It is in its original blue, silk/satin and velvet box. The conductor's baton is inscribed 'J Richardson Esq from Members of Brimington-Hollingwood Choir March 1932'.
read-more
The baton is hallmarked with TWD, which on further investigation seems to refer to Thomas William Daniels, who was a stick mounter. Stick mounters decorated walking sticks with gold, bone, ivory or silver mountings. His business was registered from October 1883 with subsequent registrations until April 1912 in Clerkenwell, London. Kelly's Post Office London Commercial and Professional Directory for 1891 lists him at 240, Goswell Road, EC. The other hallmarks refer to London and 1930.
When screwed together, the baton gives a total length of 460 mm.
The exterior of the case displays some wear and tear through age.
Case 260 mm x 30 mm
Weight 75 g
Total weight with case 170 g
read-less
If you are interested in this product or need more information about it, please leave us a message using this form. We will get back to you shortly.