Swanee whistles – who was behind the name?
admin
Slide whistles or lotus flutes made of ebonite stamped Swanee often show up at auctions and for sale on websites. They can be great fun, but also challenging to play, especially if you want to get a decent melody out of one. People call them Swanee whistles, lotus flutes, slide whistles, piston flutes or even Jazz flutes and that's that. They are generally marked with a registered design number, and almost always 'Made in London', but who was the person behind the name registered design mark Swanee?
It seems that the swanee whistle can be dated back to at least the 1840s. It was then manufactured by the DISTIN family of brass instrument musicians and was used in the concerts the members of the family played. An instrument making business was set up called Distin & Co which was later sold to Boosey (later Boosey & Hawkes). Slide whistles were also produced by the English firms Stevens & Son and H A Ward.
Registered design and patent
Then in the 1920s, the registered design and patents for the name 'SWANEE' would be filed than by a certain Samuel Bowley BARNES.
In the Official Gazette of the United States Patent Office of 1922, we read that serial number 165,004 was filed by Samuel BOWLEY BARNES, doing business as Barnes and Mullins, London, England and filled on June 5, 1922. The name was SWANEE and the description of goods was Wind Musical Instrument in the nature of a whistle. It also said that it claims use since April 2, 1921.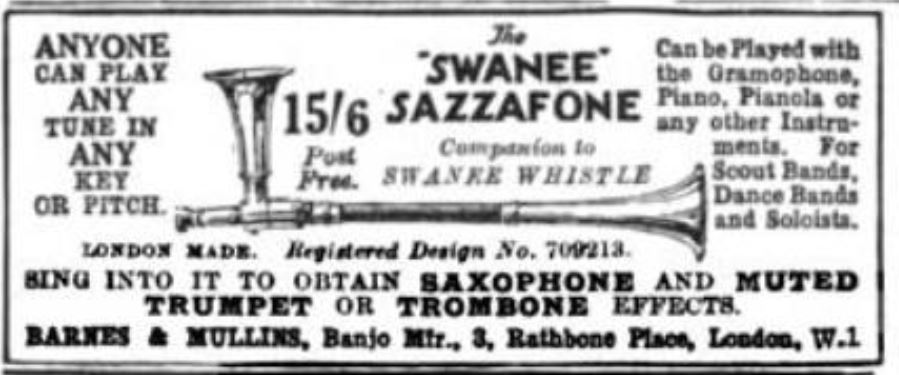 Later in 1926, in the Strand Magazine, London there are adverts for the 'Swanee' Sazzafone, is claimed to be a companion to the Swanee whistle. It stresses that 'Anyone can play any tune in any key or pitch'. London made, registered design No. 709213. We should sing into it to get the right saxophone and muted trumpet or trombone effects 😊. In the same year, there are also adverts for a Swanee Bag-pipe Vamper to reproduce saxophone, muted trumpet and clarionet (old word for clarinet) effects.
In 1927, Samuel Bowley Barnes would go on to patent the 'Swanee Sax'. This instrument had a saxophone mouthpiece and a conical bore construction with a slide along its length. It had no keys and no buttons to press and therefore easy to play – what could go wrong? Unfortunately, it didn't play very well in tune and therefore was no match for the conventional saxophone.
Samuel Bowley Barnes
So, who was Samuel? He was half of the partnership of BARNES and MULLIN. Samuel Bowley Barnes (1872-1932) and Albert Edward Mullins (1872-1914) were friends from the county of Dorset in southern England. It seems they worked and grew up together and shared the same interest in banjos and played as a duo. They started a fretted instrument magazine and began selling mandolins and banjos. They moved to London and in 1895, their wholesale musical instruments and merchandise business opened at Rathbone Place, just of Oxford Street, in London. They sold mainly banjos and mandolins which they bought in from makers. They went on to have their own 'brand' of instruments – yet still made by others. Later they opened an own workshop in Harrow, Middlesex.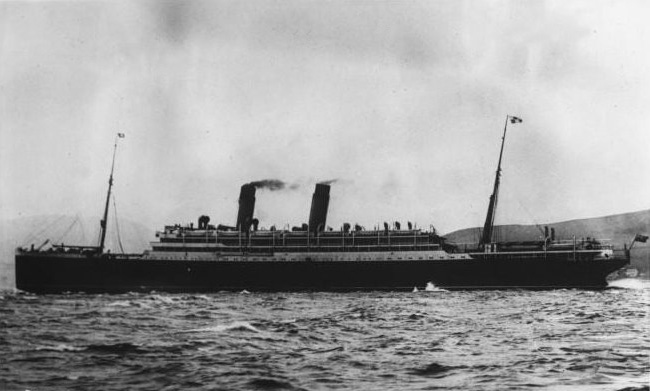 The friendship and partnership ended very unexpectedly and sadly as a result of a little-known tragedy. We've all heard of the Titanic, which sank in 1912. From its estimated 2,224 passengers and crew, more than 1500 lost their lives. But few people know about the ill-fated Empress of Ireland.
The Empress of Ireland was a British ocean liner that sank while sailing on the Saint Lawrence River in Canada as a result of a collision in extremely thick fog with a Norwegian coal ship called Storstad on May 29, 1914.
A total of 1,477 passengers and crew embarked in Quebec and 1,012 lost their lives. Sadly, among them was Albert Mullins and his daughter Eileen. Albert Mullins was on 2-year business trip and round the world tour with his family. His son Dick had stayed at home to study. His wife Kate survived to return to home to their son. Samuel Barnes continued with the business and his son Mark after him. The company moved to Oswestry, Shropshire where it still exists today.
Swanee Whistle range
The Swanee whistle range included six models:
'SWANEE WHISTLE' Presentation Concert Model
'SWANEE WHISTLE' Model de Luxe
'SWANEE WHISTLE' Ordinary Model
'SWANEE PICCOLO'
'SWANEE' Flute
There's more company information, great photos of Samuel & Albert, plus a detailed account of the maritime tragedy on the company website. A big thanks goes to BARNES and MULLIN for the visuals provided for this article!!! We love the inspiring slogan 'Be your own musician!'