BÜRGER, Julius Max – ring-key flutes from Strasbourg
admin
The beginnings in Germany and move to Strasbourg
Julius Max BÜRGER was born in Freiburg im Breisgau, Germany on 21 April, 1844. He completed a total of twelve years as an apprentice and journeyman in several woodwind instrument workshops across Europe. This training included some work in Munich for Boehm & Mendler.
He then went to work for Jean Chrétien ROTH (1816-1881) in Strasbourg. This was around the time that Strasbourg no longer belonged to France, but was annexed to the newly established German empire (1871). This was the result of the Franco-Prussian war and the city would not be returned to France until after World War I.
Business success and own instrument factory
BÜRGER worked alongside ROTH as partners from 1873 onwards until ROTH's death in1881. He then took over the workshop as his successor at 18, Kleberplatz or Place Kléber in French. This is still now the central square of Strasbourg.
BÜRGER was married to Emma Sommer and they had several children together.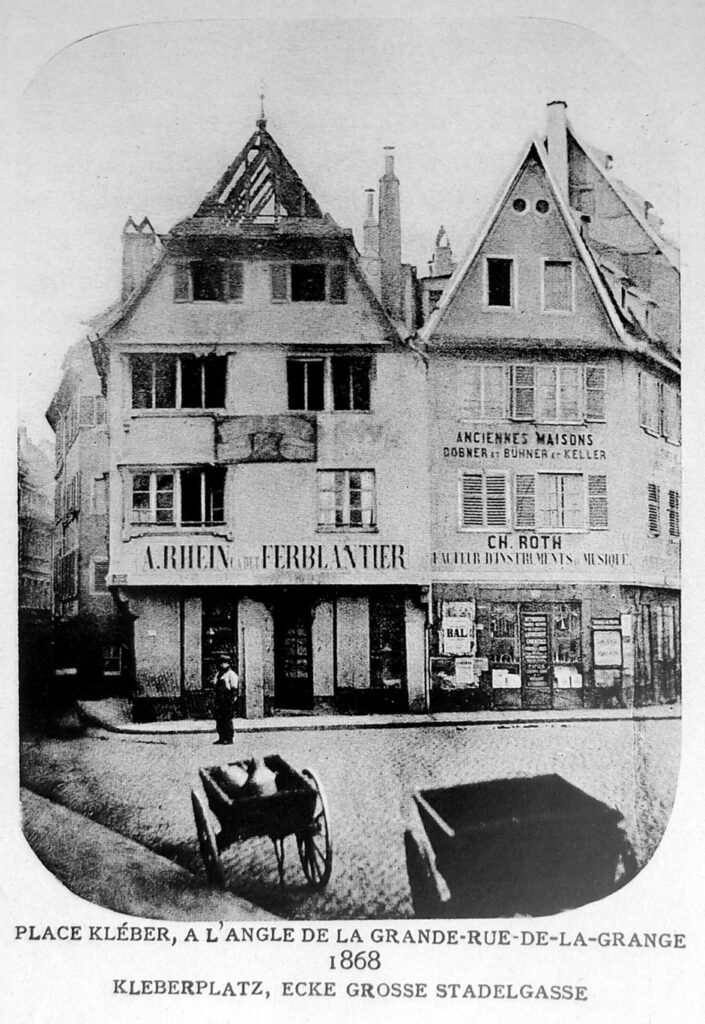 The image on the left above shows the shop of CH. ROTH MAKER OF MUSICAL INSTRUMENTS in Place Kléber or Kleberplatz in Strasbourg in 1868. More information (in French) can be found about these houses at the website Maisons de Strasbourg.
Development and success of the conical late romantic period flute
It is known that he had around ten people working for him at his instrument factory, making brass and woodwind instruments. He specialised in the construction of the conical ring-key flute. He had the help of the famous flutist Rudolf TILLMETZ (1847-1915). TILLMETZ had previously used the cylindrical Boehm flute for many years but then changed to the conical model in 1882. This seemed to be because Richard Wagner obviously didn't like it as he supposedly described the cylindrical Boehm flutes as 'Gewaltsröhren' and 'Kanonen' [formidable tubes and cannons].
BÜRGER's company became one the of the most important European flute makers of the late Romantic period. He was famous for being the manufacturer of instruments for great orchestras of the time, including those of Gustav Mahler and Anton Bruckner.
BÜRGER's successor and his return to Germany
His wife Emma died in 1904 at the very young age of 45. At that time, BÜRGER transferred his business to Carl RINKEL (in French Charles RINCKEL). RINKEL continued to make the same conical ring-key flutes using his own name as successor alongside J.M. BÜRGER but moved his workshop to the music conservatory building in Strasbourg. In 1924, RINKEL died and his successor in 1926 was Aimé VOGELWEITH.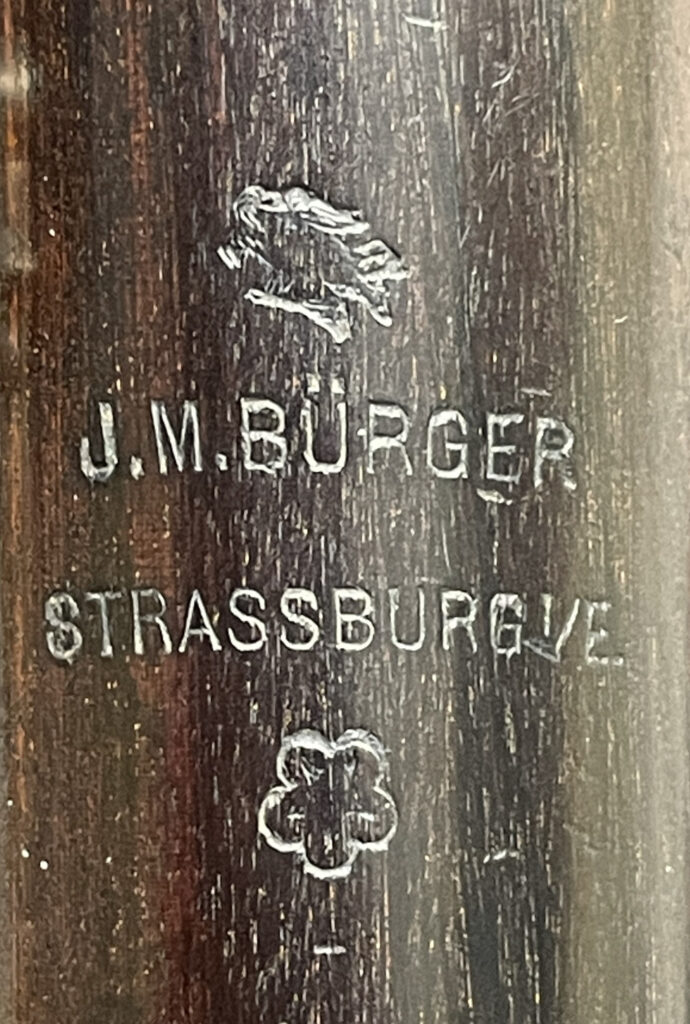 The picture on the right shows the same two buildings (17 & 18) on Place Kléber or Kleberplatz in Strasbourg in around 1912 before they were demolished. The shop is now called C. RINKEL, NACHF. VON J.M. BÜRGER [C. RINKEL, SUCCESSOR TO J.M. BÜRGER]. There is also a sign saying that from 1 July, the business will be moved to the music conservatory in Kleberplatz. It was moved to the L'Aubette building, which housed shops, a concert hall and the music conservatory.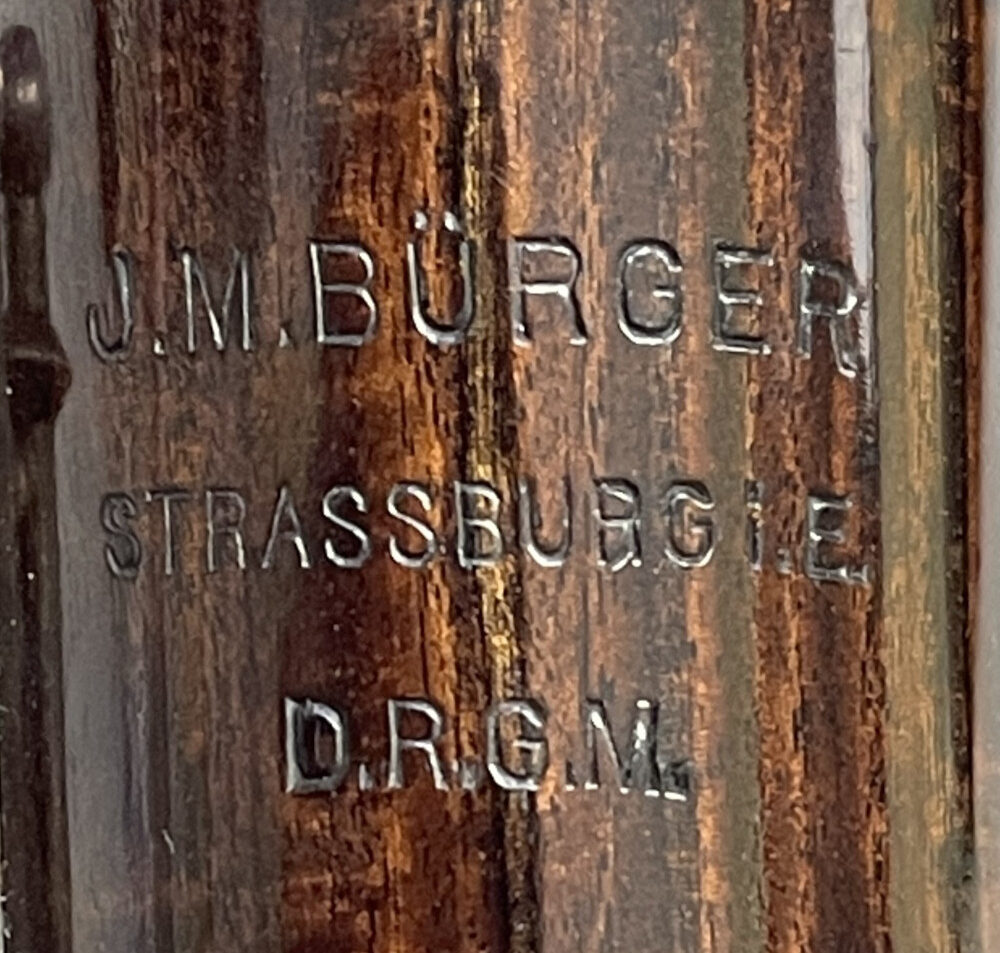 In the meantime, BÜRGER himself was keeping busy and continued to make flutes at another residence and special flute workshop in Strasbourg. He even obtained two different German utility models for his instruments. A German utility model [D.R.G.M – deutsche Reichs-Gebrauchsmuster] was a patent-like, intellectual property right for protecting inventions. Unlike a patent however, the German utility model could only protect products (not processes or applications) and had a limited lifetime from the date of registration.
One of these German utility models was granted in 1908 for a key mechanism for the left thumb on ring-key and piccolo flutes. He received the other in 1909 for a flute embouchure with rounded edges and a surface similar to that of organ pipes.
After World War I, in 1919, the region of Alsace-Lorraine, German Elsass-Lothringen was retroceded to France. Perhaps that was the reason why Julius Max BÜRGER returned to his homeland and left Strasbourg to go to Germany in 1921. It is not clear where he set up home or when and where he died.