Henry POTTER & Co. – 200+ years of instrument making since 1810
admin
The surname POTTER is synonymous with instrument making, especially flutes. We tend to think of a certain Richard POTTER (1726-1806), who was the first of three generations of London instrument makers. But there was another family of POTTERS, active in the manufacture of wind instruments and drums, at the same time… yet no link has been found to date between the two. Henry POTTER & Co has existed since 1810 and continues to this day.
It all began with Samuel Potter (1772-1836). At the age of just 14, Samuel enlisted in the Coldstream Guards (Coldstream Regiment of Foot Guards) and progressed through the ranks to eventually become Regimental Drum Major Potter in the third foot guards. As an officer in the British Army, Samuel himself couldn't start a business. So, after marrying Elizabeth Jarvis in 1802, and when his son Henry was born in 1810, he set up the company Henry POTTER & Co. In 1817 he left the army and was listed then as a woodwind instrument maker, then horn, bugle and trumpet makers. He wrote two treaties: The Art of Playing the Fife (London 1815) and Manual for Drums, Fifes and Bugles (London 1817). The company expanded in size and product range, and was a successful, official supplier to the military.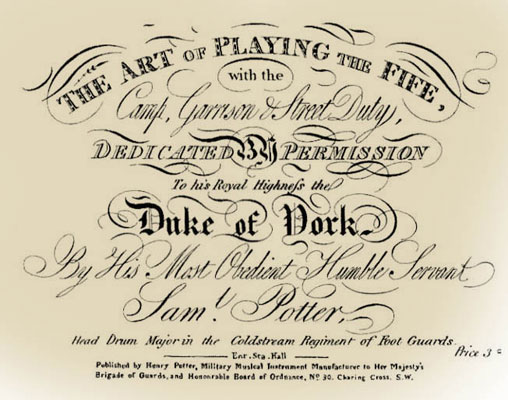 Samuel must have trained his son in instrument making because when he died in 1836, his son Henry Potter (1810-1876) took over the business at the same premises in Bridge Street, Westminster. By that time, Henry had married Eliza Riley in 1831 and they already had their first of seven children.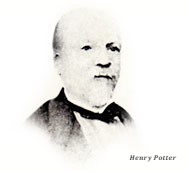 Henry seemed to have had a keen interest in flute-making and would go on to manufacture the early Clinton-system flutes for John CLINTON (1810-1864). Initially, Clinton had no way of making his own flutes, so in 1848, they entered into an agreement together to produce his first designs. From around 1860 until his death in 1876, Henry worked at 30, Charing Cross. The company had grown considerably and at one stage around 15 people were employed. Interestingly, the head of a unicorn was also used for Henry's stamp.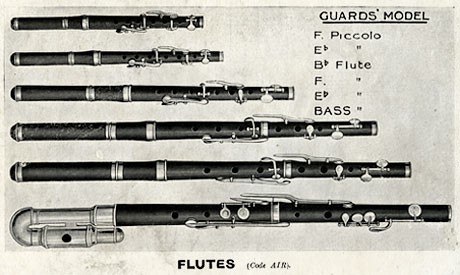 Henry's sons would continue in the instrument-making sector. Harry and William stayed to run the company in London after their father's death. George however, had already moved to Aldershot and had opened a new branch of Henry Potter & Co, since Aldershot was an extremely important military town. He renamed it George Potter & Co. and for some time the two companies existed in competition to each other, until George bought out the business in London.
Over two hundred years have passed and the company Henry Potter & Co still exists and is owned by Pete Woods. Pete was trained in the production of all the different types of instruments, and especially by George Heath (drum maker) and Bill Allen (paintwork specialist), who were born at the beginning of the 1900s, and were employed by the Potters all their working lives. The company produces timpani and other percussion, but also specialises in the servicing and repair of wind, brass and percussion instruments too. Many thanks to Pete at Henry Potter & Co for letting us use the wonderful photos and content.