STENGEL – world-renowned Bavarian woodwind instrument makers
admin
The STENGEL family and Bayreuth
The Stengel family had a woodwind instrument business for almost a century in the German town of Bayreuth or Baireuth. Bayreuth is located in the north of Bavaria, on the Red Main river. Its roots go back to 1194. It is very famous, among other things, for the annual Bayreuth Festival. This is the most famous Richard Wagner opera festival in the world, delighting its audiences with extraordinary performances of 19th century operas. [Getting tickets to the festival is extremely difficult though, with fewer than 6,000 total seats available for the Ring across the whole season.]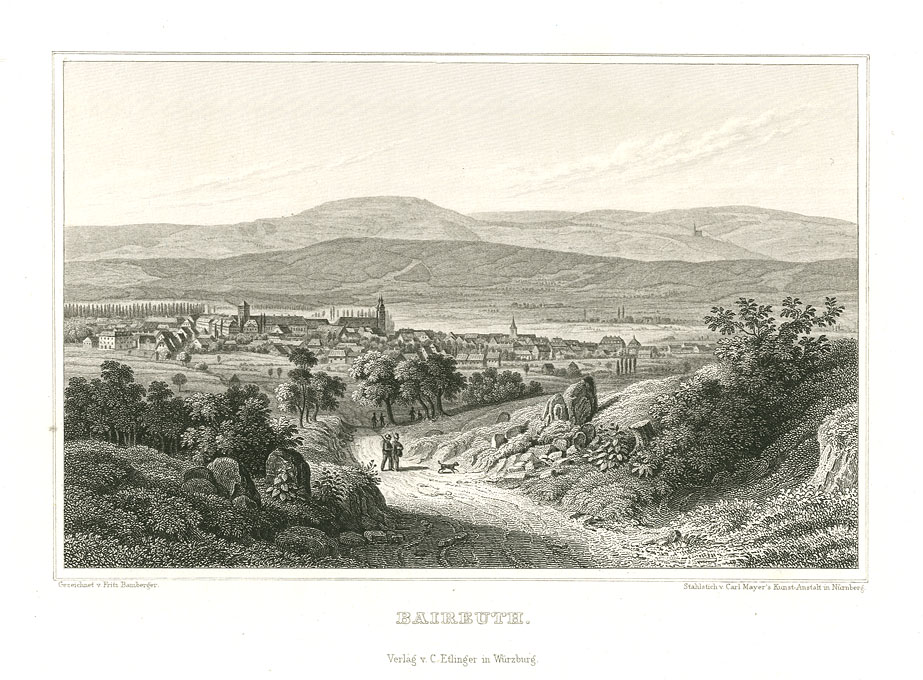 The founder Johann Samuel STENGEL
The founder of the company was Johann Samuel STENGEL (1771-1826). Johann Samuel Stengel was born in 1771 in Döhlau. In 1793, he married Johanna Christiana Wilhelmina Helfritzsch and together they had three daughters and three sons. At that time, he was an apprentice turner and became a master in 1798. It appears that he did not do his journeyman year (probably because he had just recently married!) and had to pay a sort of fine. He had his own workshop by 1798 in the village of Hof an der Saale [Hof on the banks of the river Saale] as a horn and bone turner. Then he packed up shop and left with his family for Bayreuth in 1805. He was given permission there to begin making all types of woodwind instruments.
If that wasn't enough, he took over the Gasthaus Zum Wilden Mann inn. Plus, alongside working as an instrument maker, he even worked as form of haulier. At this time, he would transport goods with horse-drawn vehicles for a fee. He was regarded as one of the finest woodwind instrument makers in the region at that time. At one point there were five apprentices working with him, including two nephews and his son Johann Simon [more about him in a moment]. But perhaps he took too much on… and the instrument business didn't do so well in the end. After his death, his widow took over the business until Johann Simon took control of the ropes.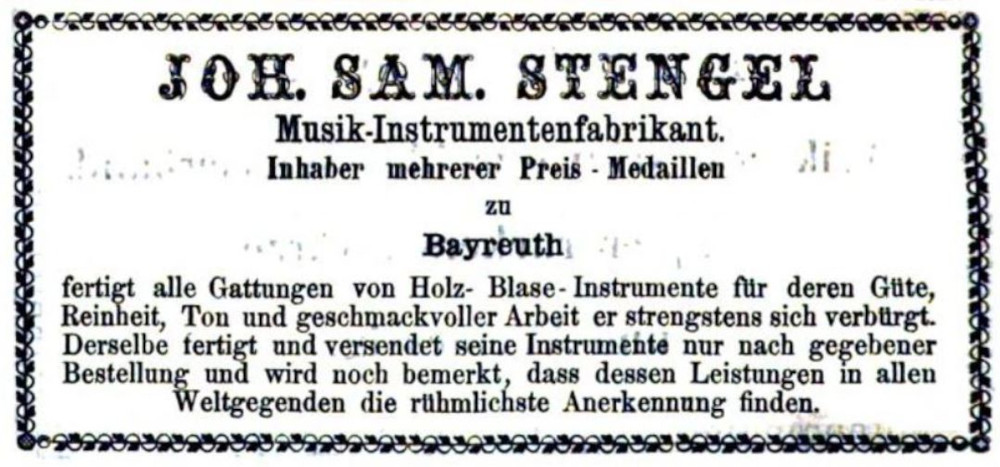 JOH. SAM. STENGEL
Musical instrument manufacturer.
Holder of several prizes – medals
in Bayreuth
manufactures all kinds of woodwind instruments for whose quality, clarity, tone and tasteful workmanship he is strictly committed. He manufactures and ships his instruments only after receiving a definite order, and it should be noted that his work is highly appreciated in all parts of the world.
The apprentice and successor Johann Simon STENGEL
Johann Simon STENGEL (1803-1885) had already been working for his father since 1817 when he took over the business in 1828. He must have learnt the trade extremely well. Like his father, he also became very famous for the splendid quality of the instruments he made. He even exported them to other countries, including Switzerland, Italy, Denmark, Sweden, Russia and as far away as Brazil.
After working hard on flutes and oboes, he turned his attention from 1825 on making clarinets with marvellous quality workmanship. They featured some of Ivan Müller's (1786-1854) developments for the clarinet. The Stengels also made alto clarinets, basset horns and bass clarinets.
Johann Simon qualified as a master and joined the turner's guild. But he later left because he wanted to be involved in dealing with musical instruments and the guild did not agree to his request.
Johann Simon got married in 1829 to Maria Magdalena Wilhelmina Kögler (1811-1853). She was the daughter of a master bookbinder and they had eight children together. Two of his sons would learn the woodwind instrument making trade and work in the workshop alongside several other workers. He also became more involved in trading with all types of instruments, musical accessories and instrument repair.
He was certainly highly respected among the musicians of the time. Johann Kaspar KUMMER (1795-1870), a German flutist, professor and composer was one of his biggest fans. He described him as an 'exceptional master of his craft'.
He took part in many exhibitions and won several prizes for his excellent workmanship.
Richard Wagner (1813-1883) himself instructed that one part (cor anglais) in one of his operas should be replaced by an alto oboe made by Johann Simon Stengel.
Johann Simon passed away in 1885.

Last but not least… Johann Christoph STENGEL
Johann Christoph Stengel (1833-1902) took over the business in 1885. His elder brother, Johann Peter Christian (1831-1878), who had also learnt the trade with his father, had already died by that time. Johann Christoph took over the business at a complicated time. His product range was quite broad and he relied a great deal on export. There was also some quite fierce competition at that time from abroad. He did receive awards for his instruments although he rarely attended trade exhibitions.
Otto Mönnig (1862-1943) was one flute maker who worked during his journeyman years with Johann Christoph before he started his own business in Leipzig.
Johann Christoph never married and died in 1902, single with no children. The Stengel family business died with him. In his will he left everything to one of his sisters.
Today, we are fortunate to still be able to admire the wonderful craftsmanship of the woodwind instruments made by the Stengel family at many museums… definitely worth a visit!