Tebaldo MONZANI – the Italian-born English gentlemen and musical entrepreneur
admin
Tebaldo MONZANI was born in Verona in 1762. He was the son of a merchant called Anthonio MONZANI and his wife Teresa. They had another son called Antonio who died in 1807.
There is no information to be found on Monzani's initial training or career as an instrumentalist in Italy. He played the flute and at first played the oboe too. He emigrated to England around 1784. He made, what seems to be his first, premiere as a flutist at a concert on Monday February 28, 1785 at the Haymarket Theatre in London. He performed as a flutist in the orchestral concerts organised by Johann Peter Salomon, including those at the King's Theatre and the Pantheon Opera House.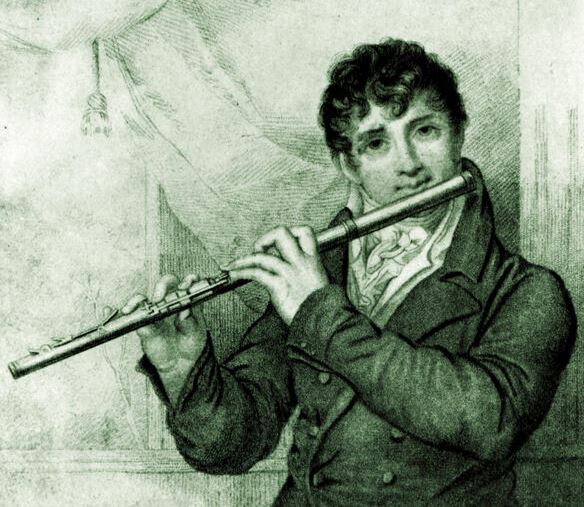 Then Monzani became more involved in composing and publishing collections of music, by other authors as well as himself. He worked in collaboration with piano maker and music publisher James Ball to print and sell his publications.
In around 1800, together with the composer and musician, Giambattista CIMADOR (1761-1805), he founded the company MONZANI & CIMADOR. It was located at the Opera Music Warehouse at 3 Old Bond Street, London.
On 28 Oct 1800, aged 38, MONZANI married Pleasant PRICE (1775-1840) and they would go on to have at least six children together.
MONZANI seems to have stopped performing as a flutist and in February 1805, CIMADOR died and the company was dissolved.
In 1807, he was naturalised as a British subject and then formed the company MONZANI & Co. together with Henry HILL (1781-1839), who was an instrument maker, music seller and publisher. It later was also called Monzani & Hill. They worked very successfully together for over twenty years, even obtaining a royal privilege. They concentrated on making finely crafted and innovative flutes and clarinets, but also made oboes and horns. The materials used were of the highest quality.
As a maker, Monzani used hallmarked silver extensively for the keys and the sockets of flutes. Some of the special features of his flutes included a reverse tenon at the head joint, an oblique G# key or the combined lower middle and foot joint. He also incorporated special flat key flaps with screws and a silver button (patent 1807) and used cork to cover the tenons (patent 1812). His instruments were nearly always stamped with serial numbers , which was a novelty at that time. For more detailed information about specific serial numbers, hallmarks and dates, please refer to the article by Amy Kreitzer, 'Serial Numbers and Hallmarks on Flutes from the Workshop of Monzani & Hill', The Galpin Society Journal 48, 1995.
The flutes were often sold with two head joints, rather than one head joint with a tuning slide. This may be connected to the pitch changes in London around that time. Monzani also supplied tuning rings, which covered the gap between the tenon and socket when the head joint was pulled out to lower the pitch. This avoided acoustical problems and the formation of water/humidity collecting in the gap.
He also published the flute tutor 'Instructions for the German Flute' (1801, 3/1813), which had a wide circulation and is still published and printed today.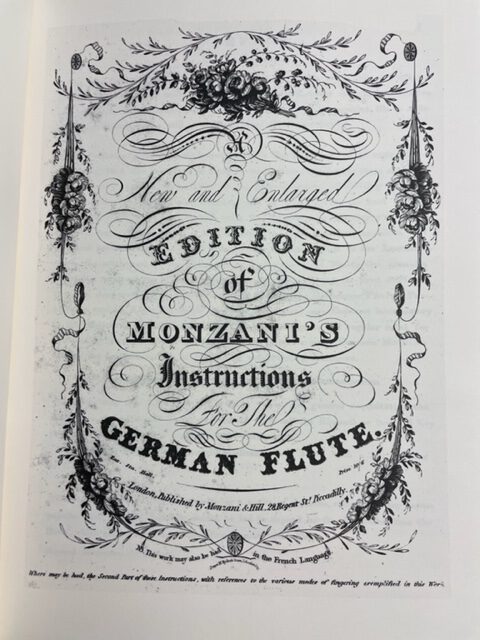 Monzani retired in 1829 and the business was carried on by Henry Hill under the name 'Hill, late Monzani & Co'.
Monzani died aged 77 in Margate, near London, on June 14, 1839. His wife, Pleasant died the following year. One of their sons, Willoughby Theobald, was a flutist and somewhat involved in his father's business. Another, Theobald Peregrine, emigrated to the USA and is said to have set up his own business there in instrument-making and musical performance.