The Heideggers of Passau
admin
The surname HEIDEGGER is synonymous with instrument making in Passau and Linz. The family's instrument-making history begins in the 1840s and ceases over 130 years later in 1973. Their story is not unlike other instrument makers of those days…difficult, complicated but for many, very interesting, especially since in this case, it is entwinned with another family – the HORNSTEINERs.
Georg – the father
Georg HEIDEGGER (1815-1859) was the first son of the town musician Franz Josef HEIDEGGER and his wife Anna (née MEIER). He was born on 22 July 1815 in the picturesque German city of Passau on the Austrian border. Known as the Three Rivers City, Passau is located at the confluence of the Danube, Inn and Ilz rivers. Georg Heidegger was initially trained as a turner and then went on his obligatory six journeyman years travelling to many cities including Dresden where he received training from Carl Theodor GOLDE (1803-1873) and Deggendorf with Georg PANGRAZ/PANKRAZ (1782-?). Over the years, he obtained the necessary licences to make and deal in wood, brass and string instruments and strings. His workshop production included clarinets, flutes, oboes, bassoons, piccolos as well as zithers, violins and trumpets and must have employed many different instrument specialists. Among them could have been a certain Johann HORNSTEINER (1835-1885) from the famous HORNSTEINER violin-making family from Mittenwald, Germany.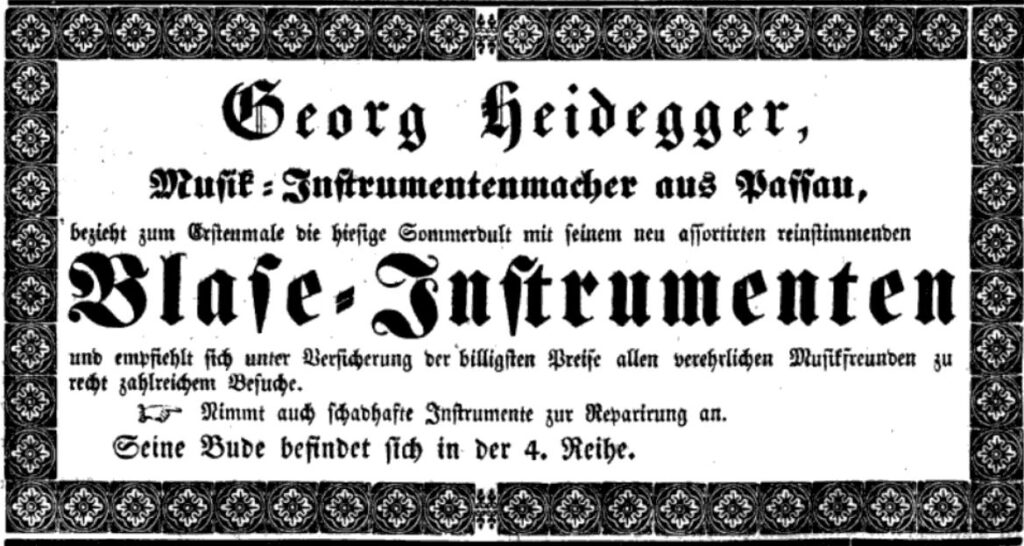 Marriage, children and untimely death
Georg Heidegger married Antonia THURNBAUER (1822-1872) in November 1845. Among their children at least three would go on to work in musical instrument manufacture. They were Albert (1846-1879), Georg Joseph (1849-1881) and Eduard (1851-1923). Their father, Georg Heidegger died suddenly of lung disease on 16 March 1859 in Passau at the age of just 44 leaving a young wife and five children behind to fend for themselves.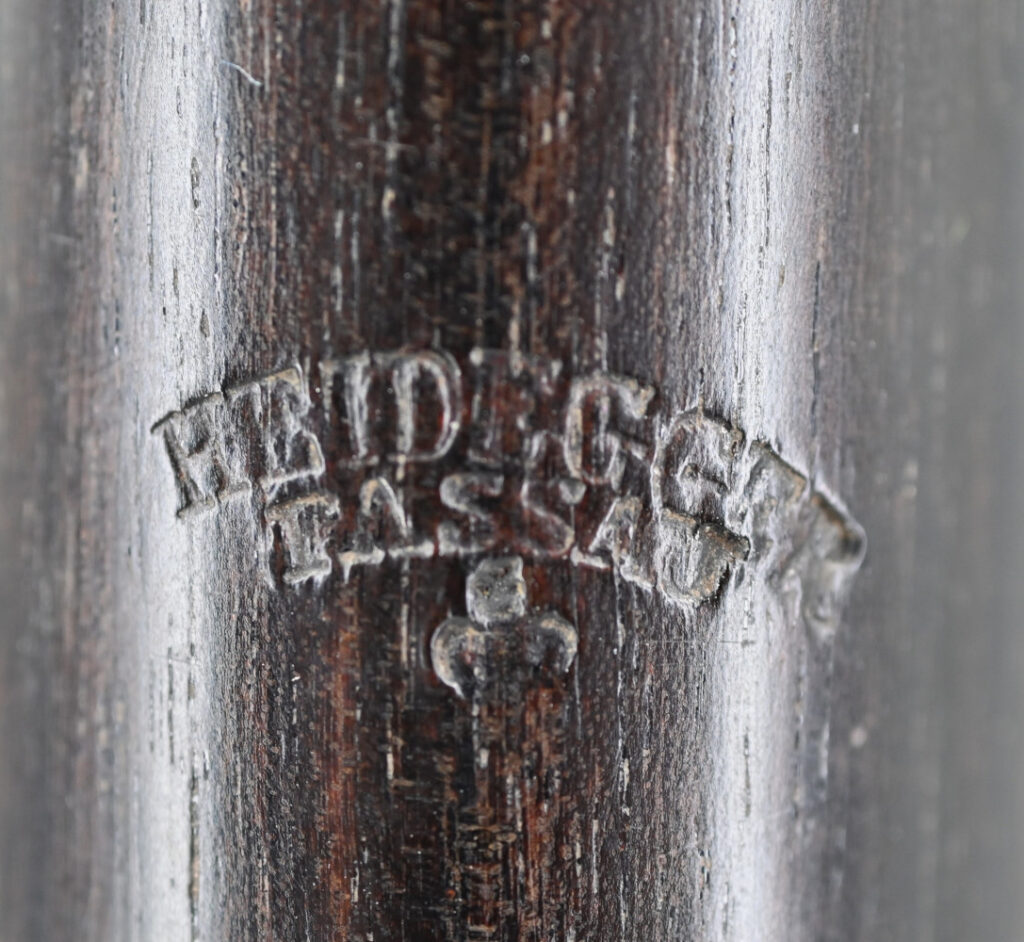 New husband for Antonia
The following year, in November 1860, the same Johann Hornsteiner wrote a letter to apply to the city of Passau for a concession as a string instrument maker in Passau. He claimed that he intended to marry Georg Heidegger's widow Antonia, who was only 38 at the time. The city was very quick to approve the application on 25 January 1861 – with the condition that he must marry Antonia. The whirlwind wedding took place on 7 February… just a few days later.
Albert, Georg Joseph and Eduard must have initially worked in their step-father's business. Johann Hornsteiner and Antonia had their first child in December 1863 – Johann Hornsteiner II. The three young Heidegger step-sons eventually had separate workshops in the city.
Antonia's death and future of the three sons
In June 1872, at the age of 50, their mother Antonia died and perhaps this spurred the three young men to spread their wings, marry and start their own families. Albert and Eduard set up a stringed instruments and strings business in Linz. Eduard became a prize-winning zither maker, whose business continued in Linz well after his death until it went bankrupt in 1974. All three took part as separate individuals at the Vienna World exhibition of 1873.
Georg Joseph Heidegger married Katharina KRÖLL in July 1872… just after his mother died. In 1874, they had a boy, but it seems that his instrument making business in Passau went bankrupt. So, Georg Joseph abandoned Katherina and his son and went to Hamburg. There he set up a stringed instrument manufacturing business with Julius Otto DOSS in 1879 called Doss & Heidegger. Katherina tried to get him to pay maintenance as the father of the family. However, Georg Joseph explained in a letter in 1881 that he was weak and ill and had no money, but rather owed it for his lodgings. Georg Joseph Heidegger died a few weeks later in hospital aged 32.
The Hornsteiners
What happened to Johann Hornsteiner? Johann Hornsteiner senior married again of course in 1872… On his sudden death at 50, his son Johann Hornsteiner II continued on with the business, who was succeeded by Johann III, then Johann IV and the other family members until it was sold in 1978.