Flute – WOLF & Co, Robert
admin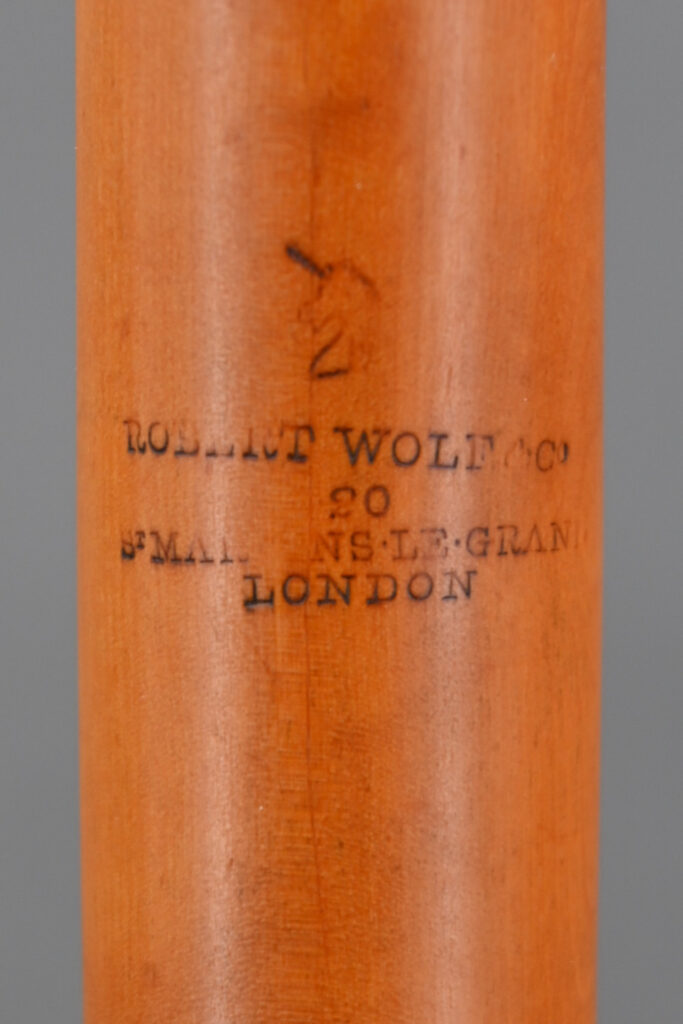 A four-keyed boxwood flute created by the Englishman Robert WOLF (1808-1844), pitched at around a=440 Hz. Robert Wolf & Co was active between 1837 and 1845. Originally registered at 79, Cornhill, the company moved to 20, St. Martin's Le Grand and worked from there between 1843 and 1845. From 1846, following Robert's death, it became Wolf & Figg. This particular flute was therefore constructed between 1843 and 1845 when the company worked out of 20, St. Martin's Le Grand.
It is interesting to note that the company stamp features the head of a unicorn . This mythical creature with a single horn was quite a popular addition to the logo of woodwind makers at that time in London. It was part of the trademark of the master maker's stamp.
Robert Wolf was an employee of Christopher Gerock and married his daughter Sabrina Susannah Gerock in 1831. After Gerock retired, Robert Wolf took over the business… and the unicorn. Sadly, he died very young at the age of 36. He left behind several children. Maybe one of these children, or his sister Mary Rosini Wolf together with his mother (Mary Wolf née Figg) carried on the musical instrument and pianoforte business.