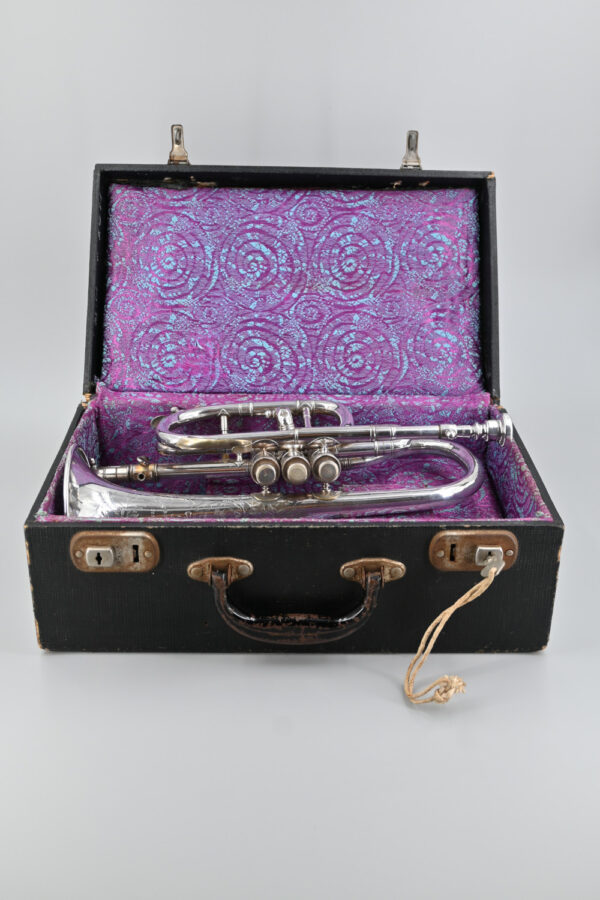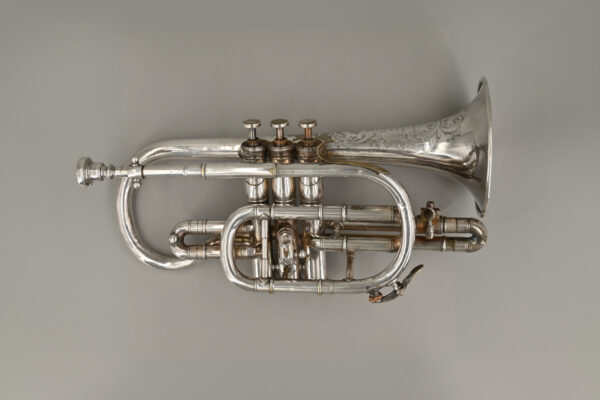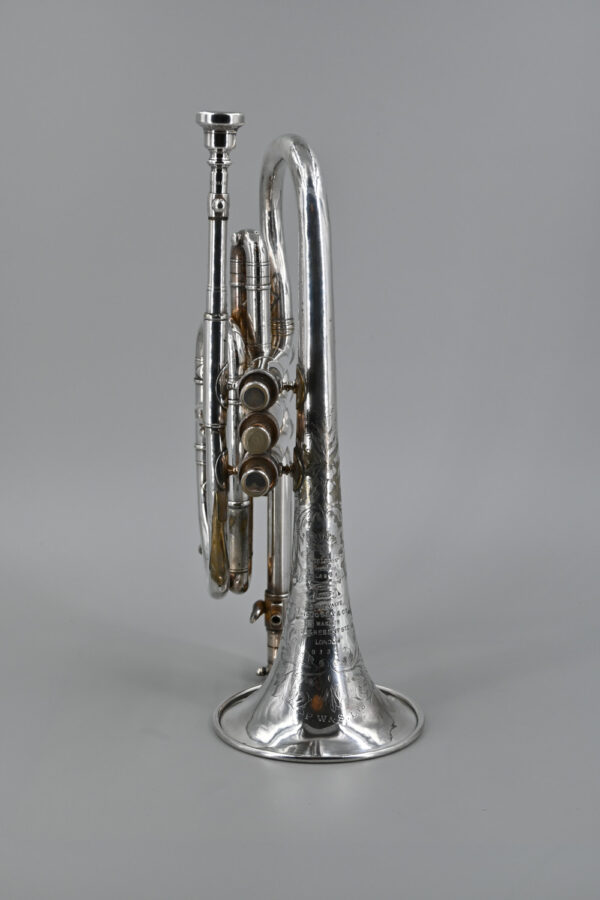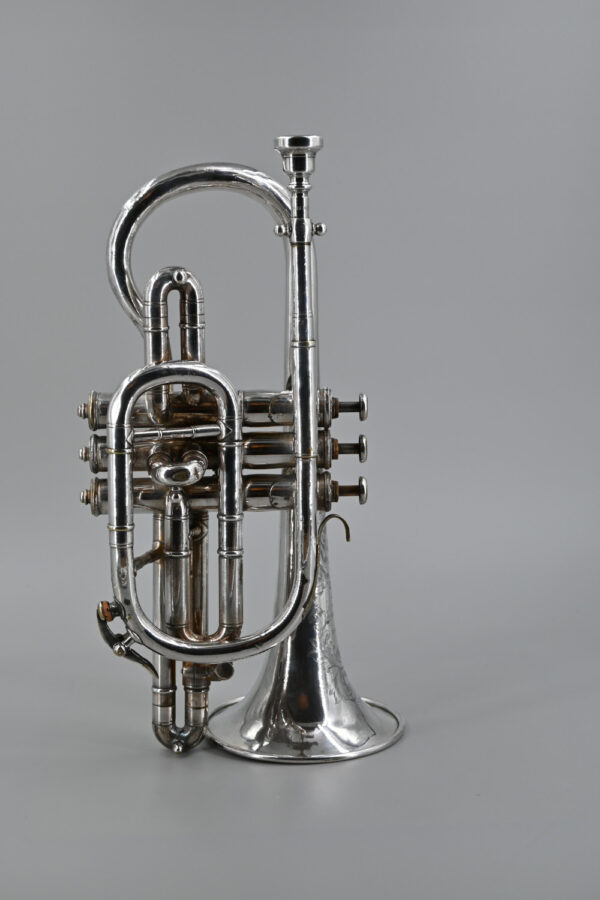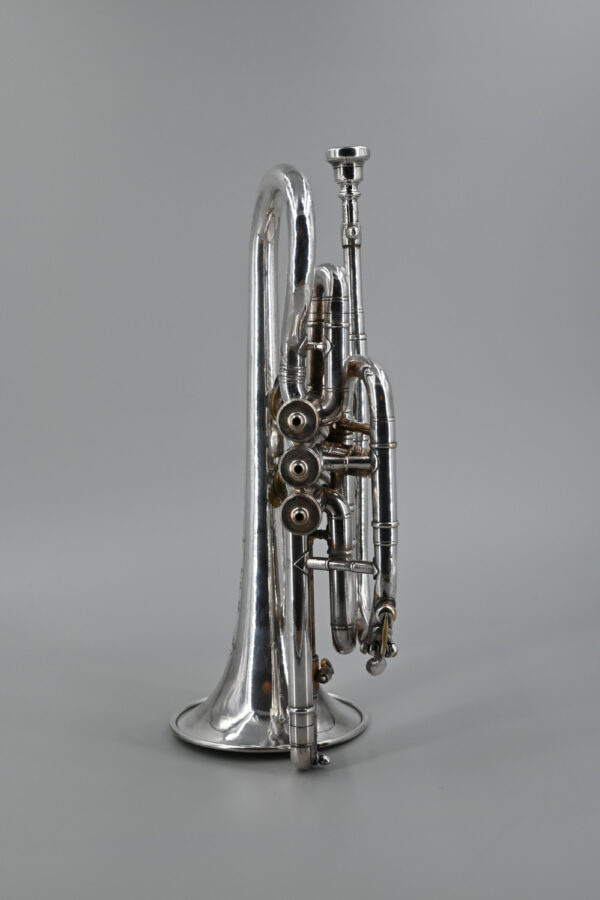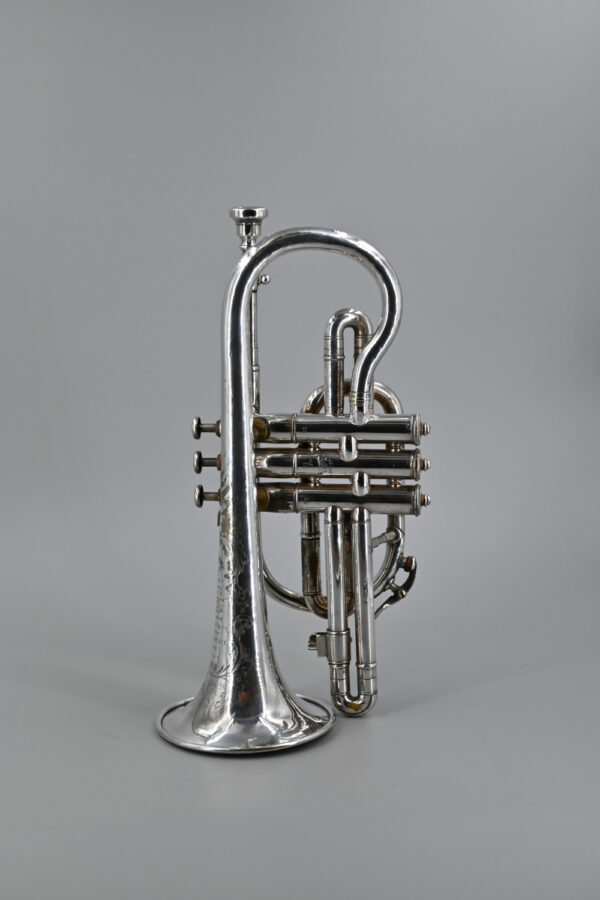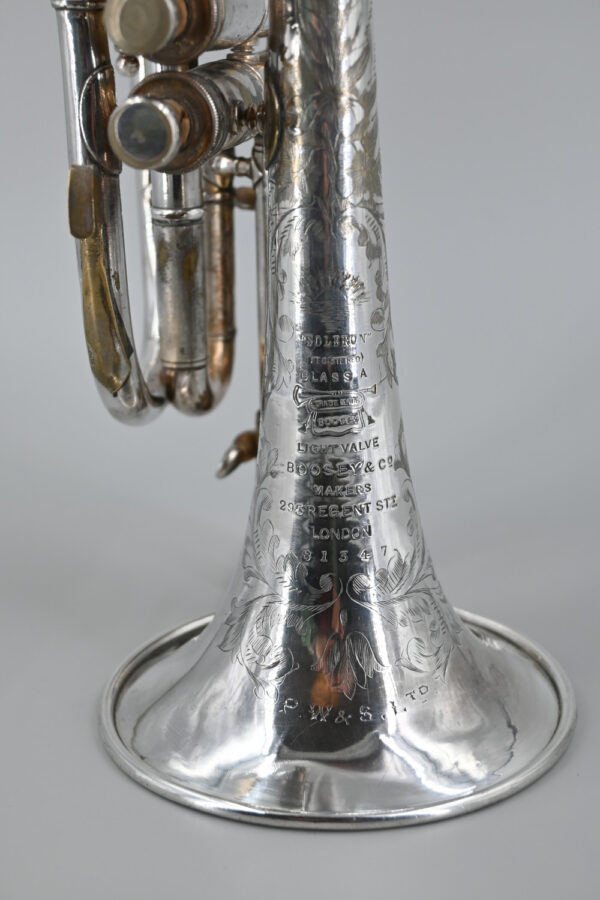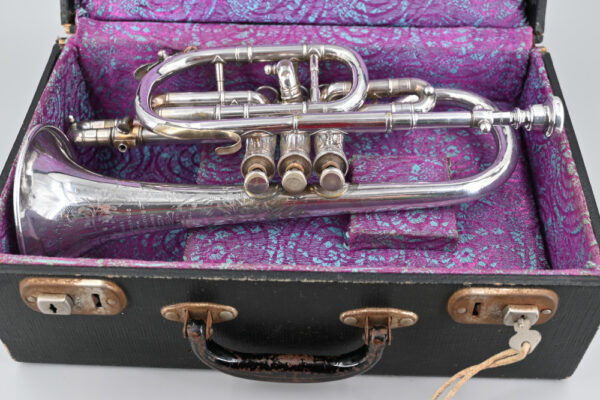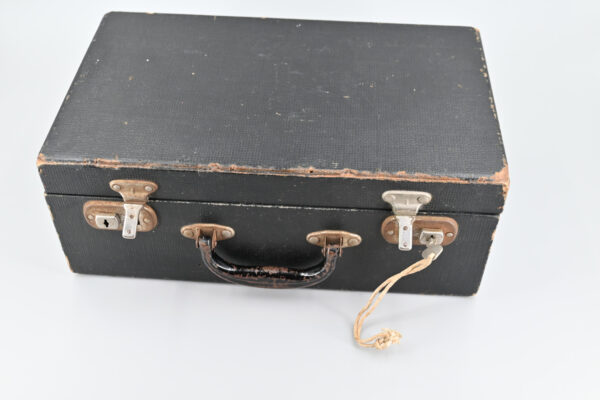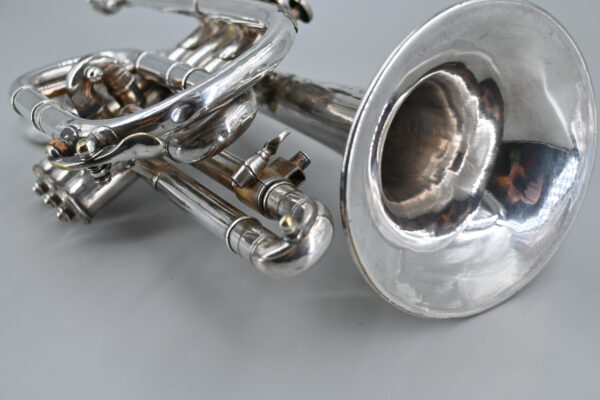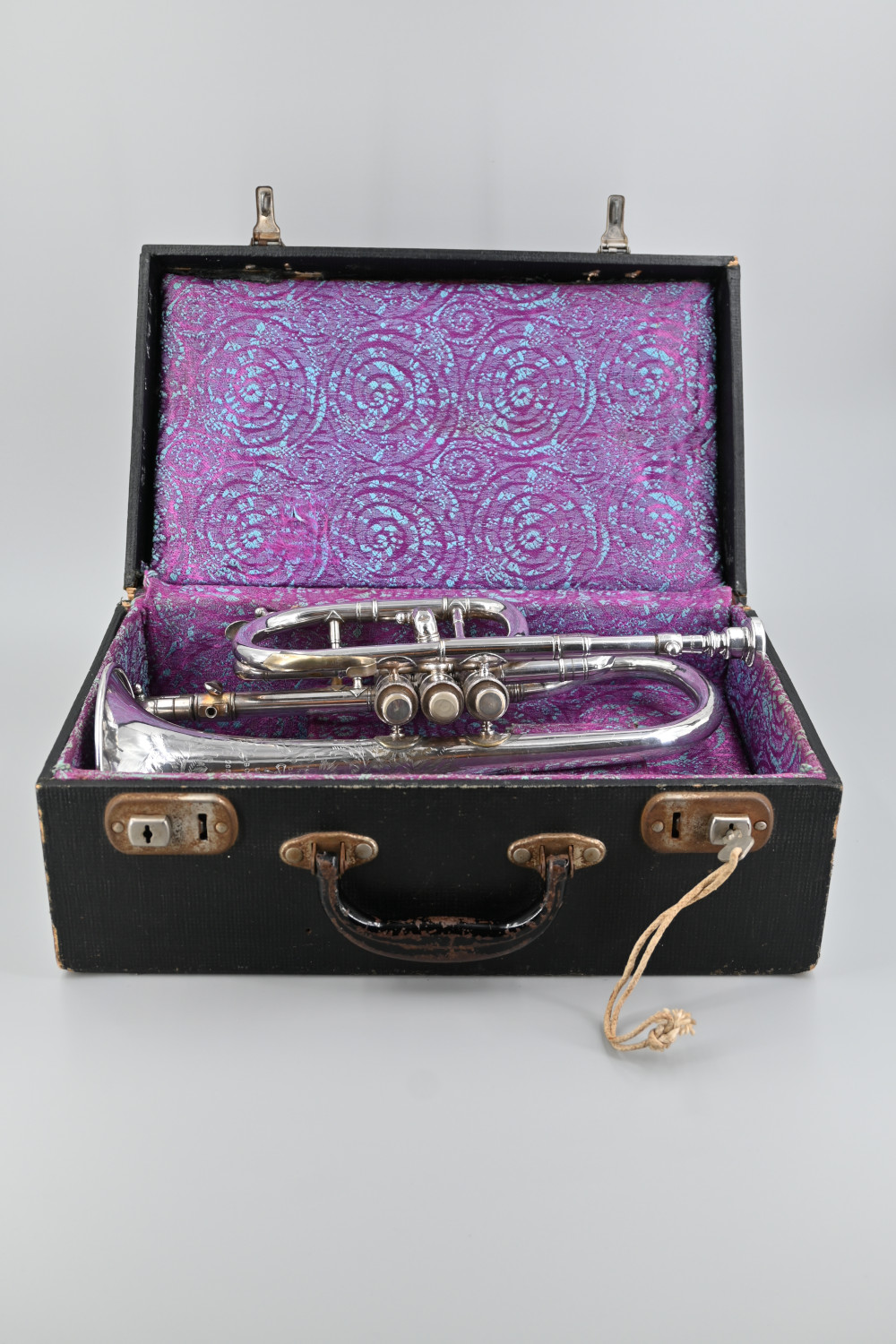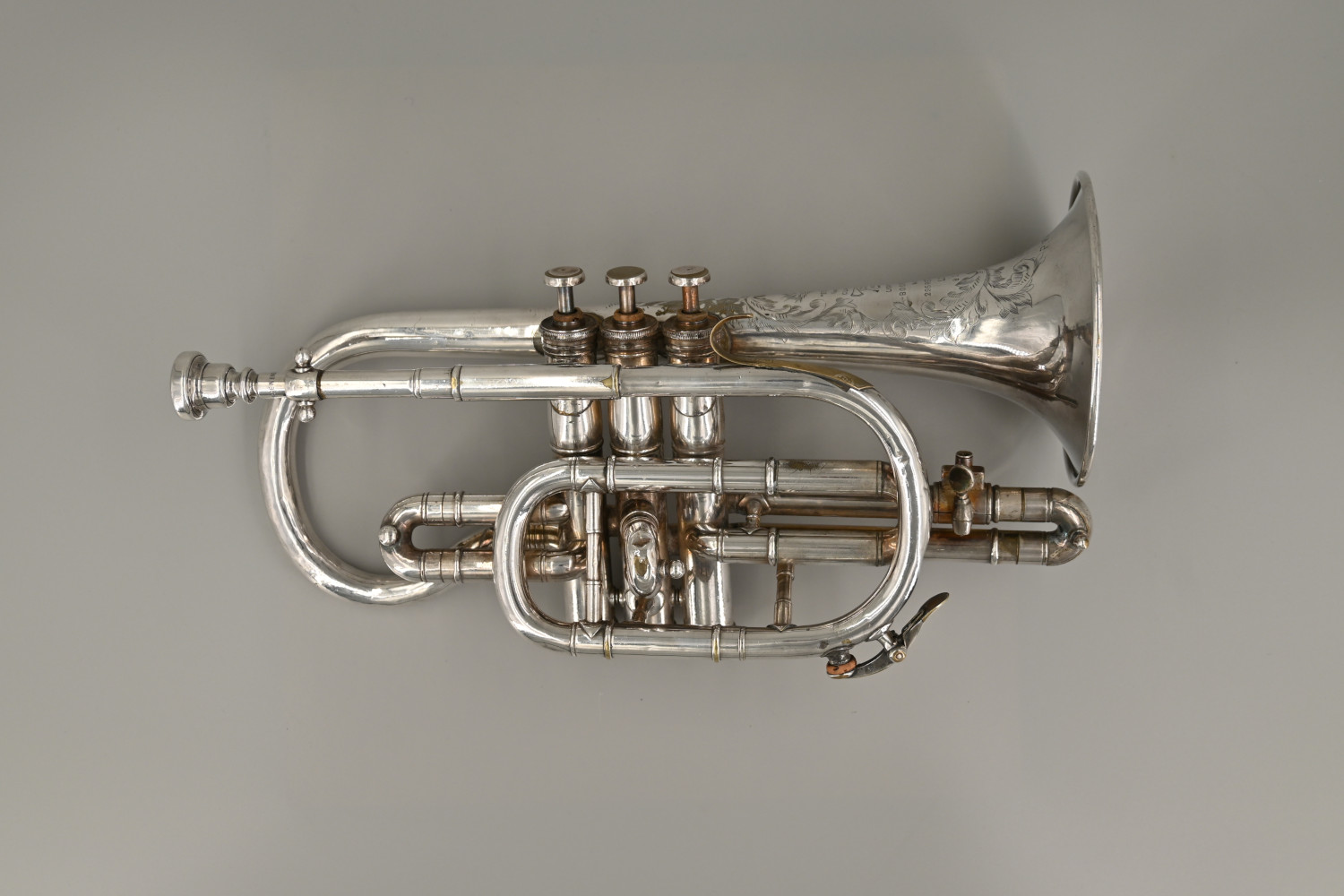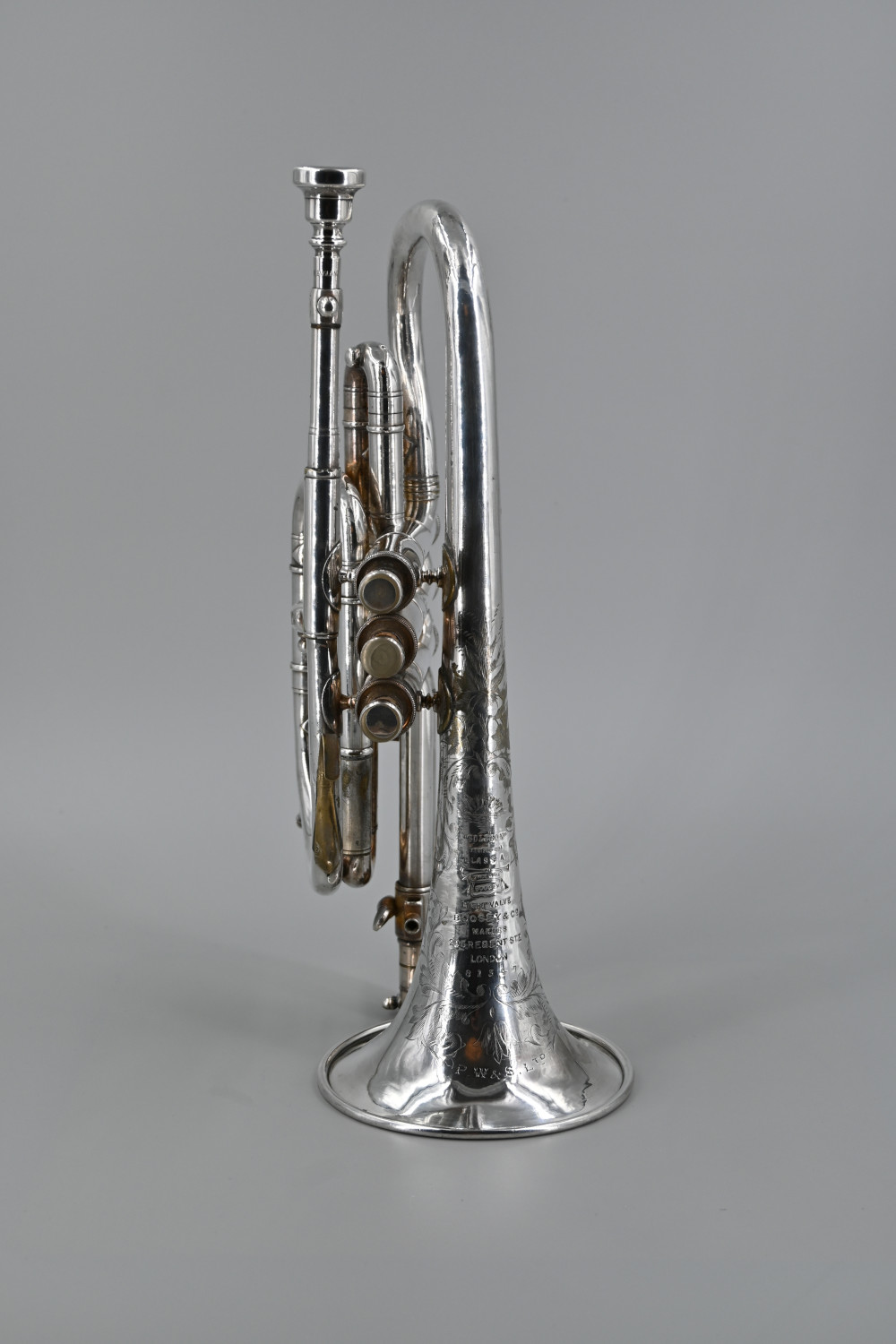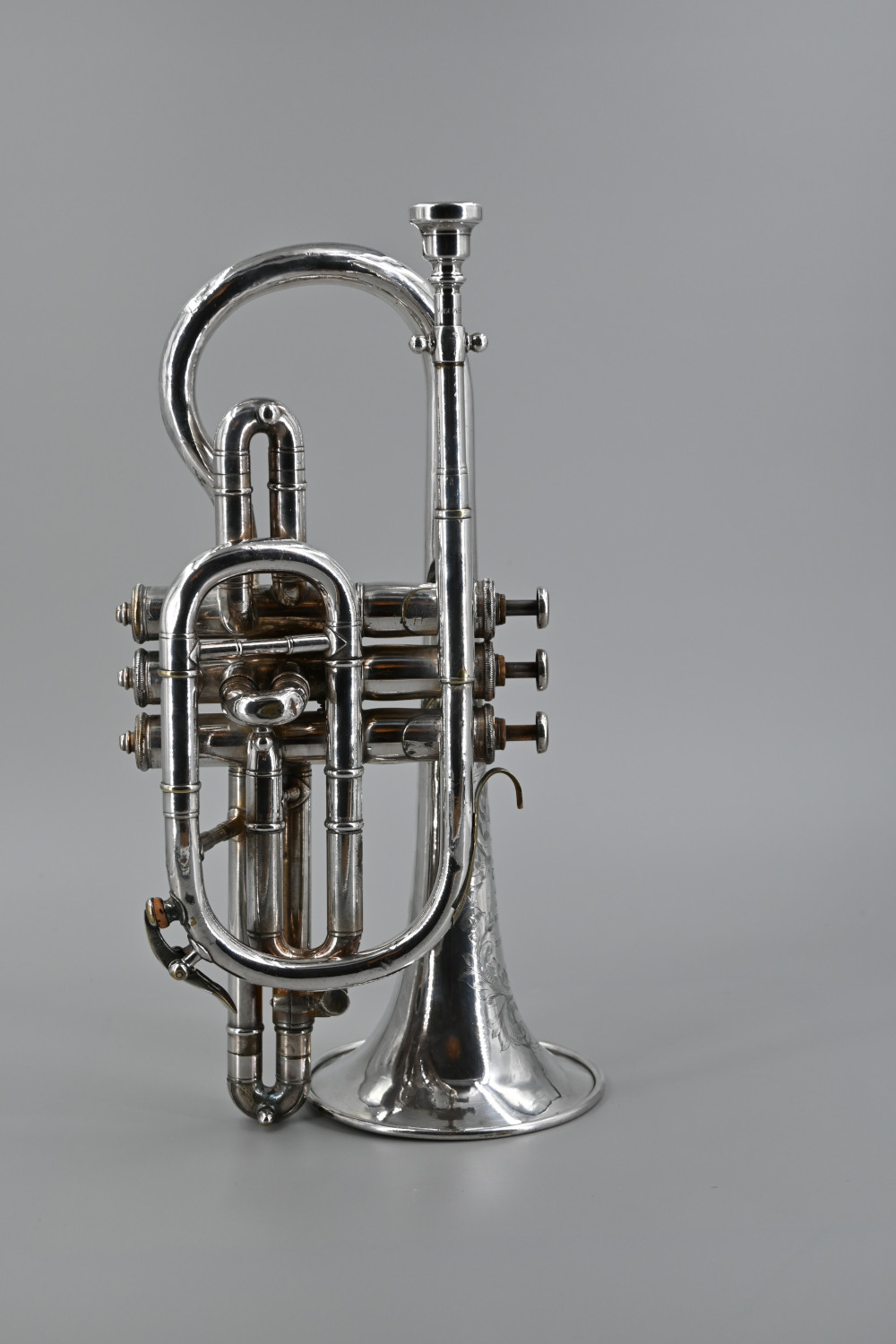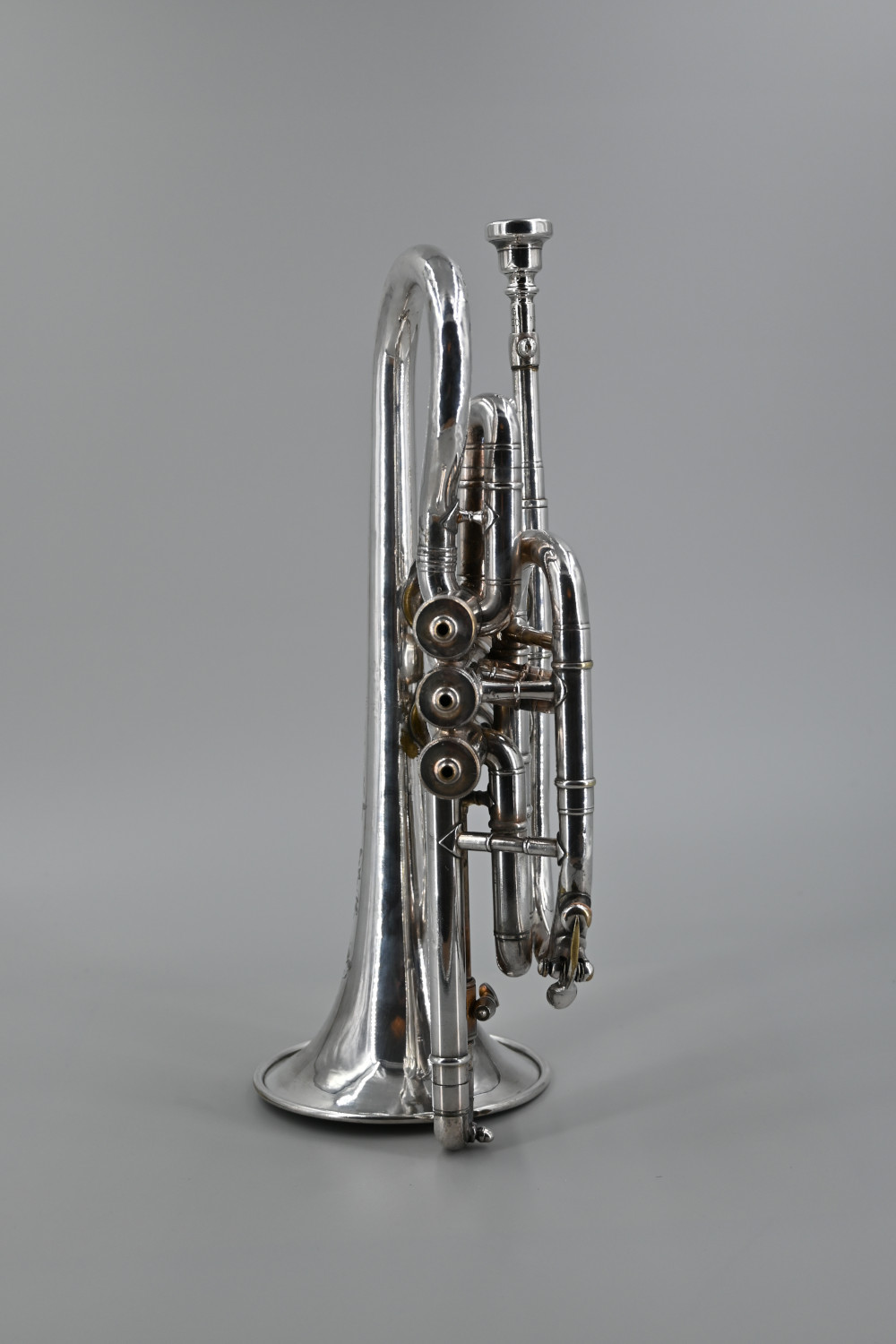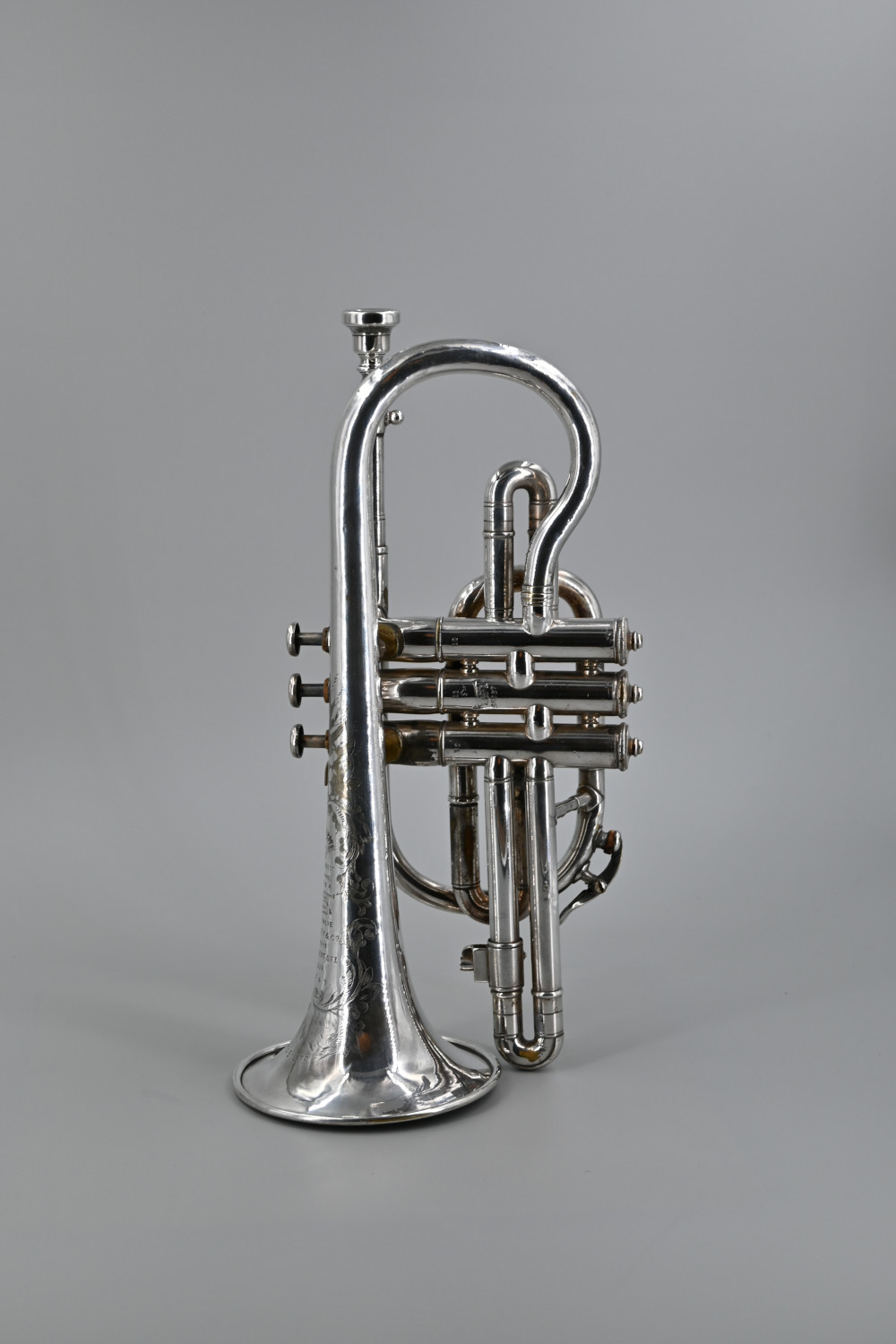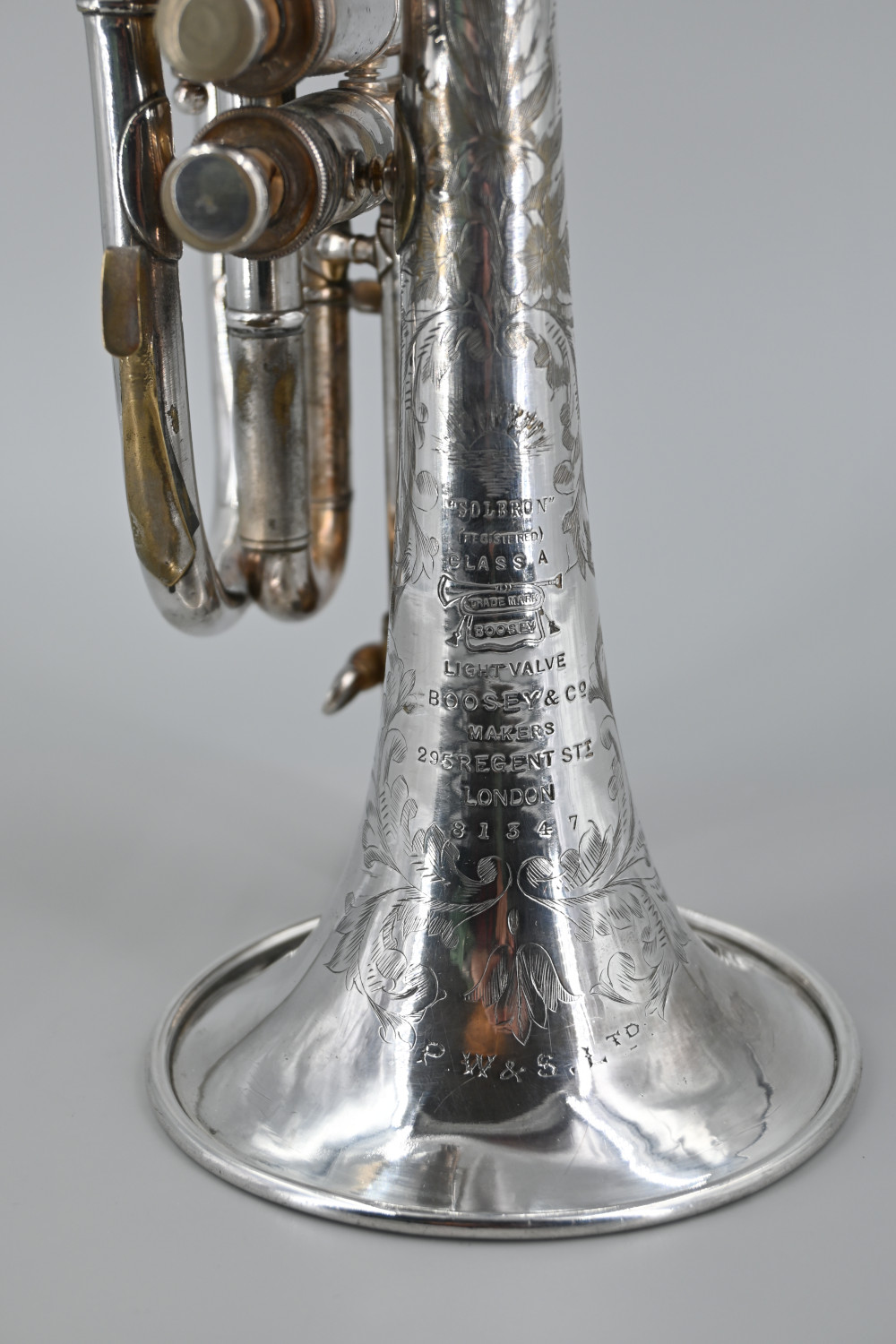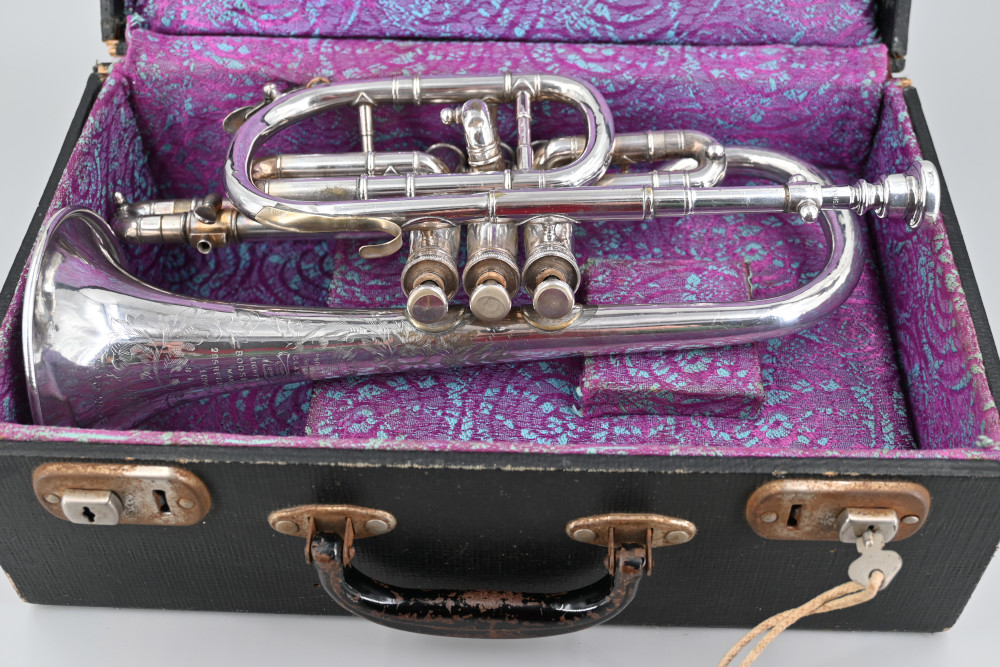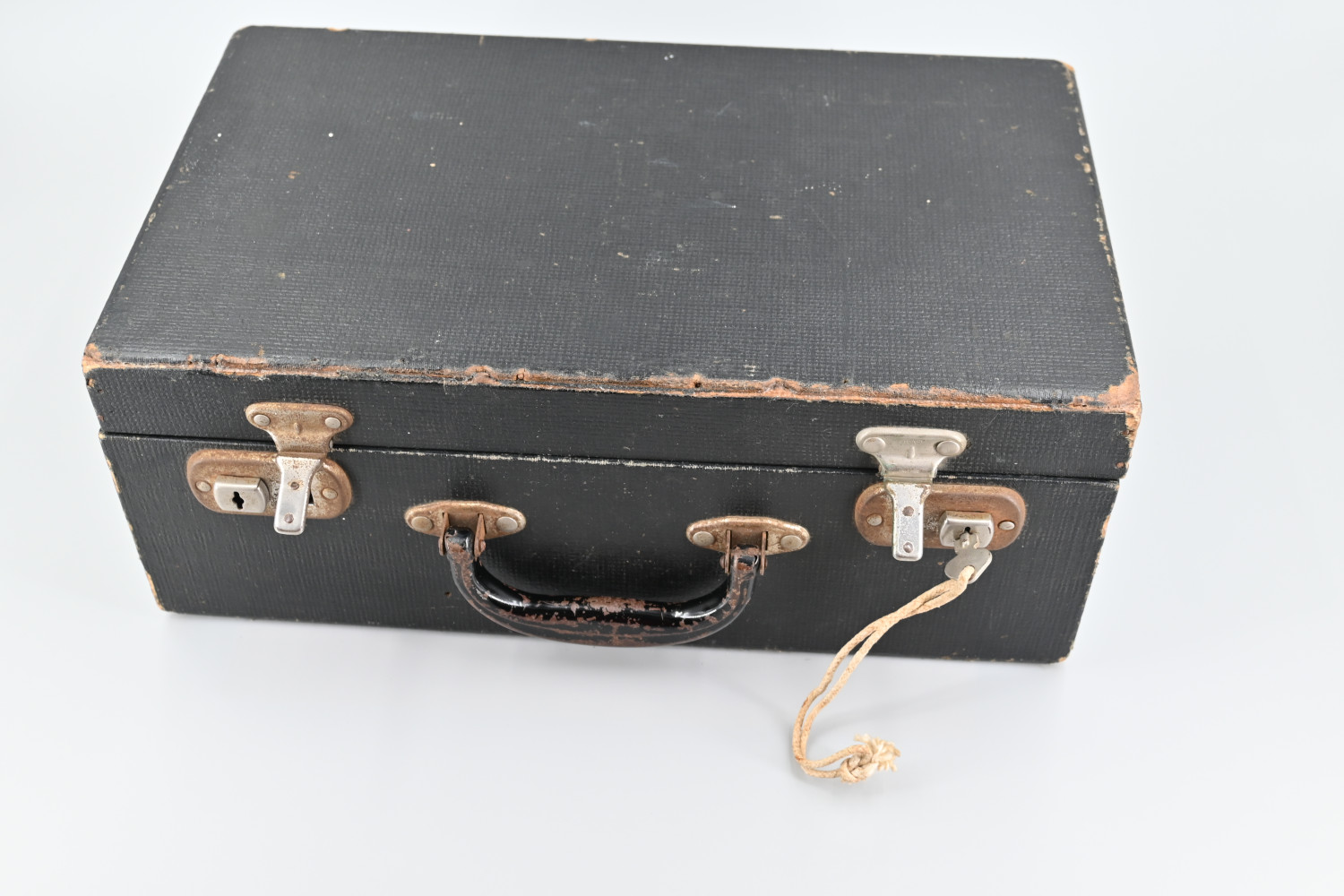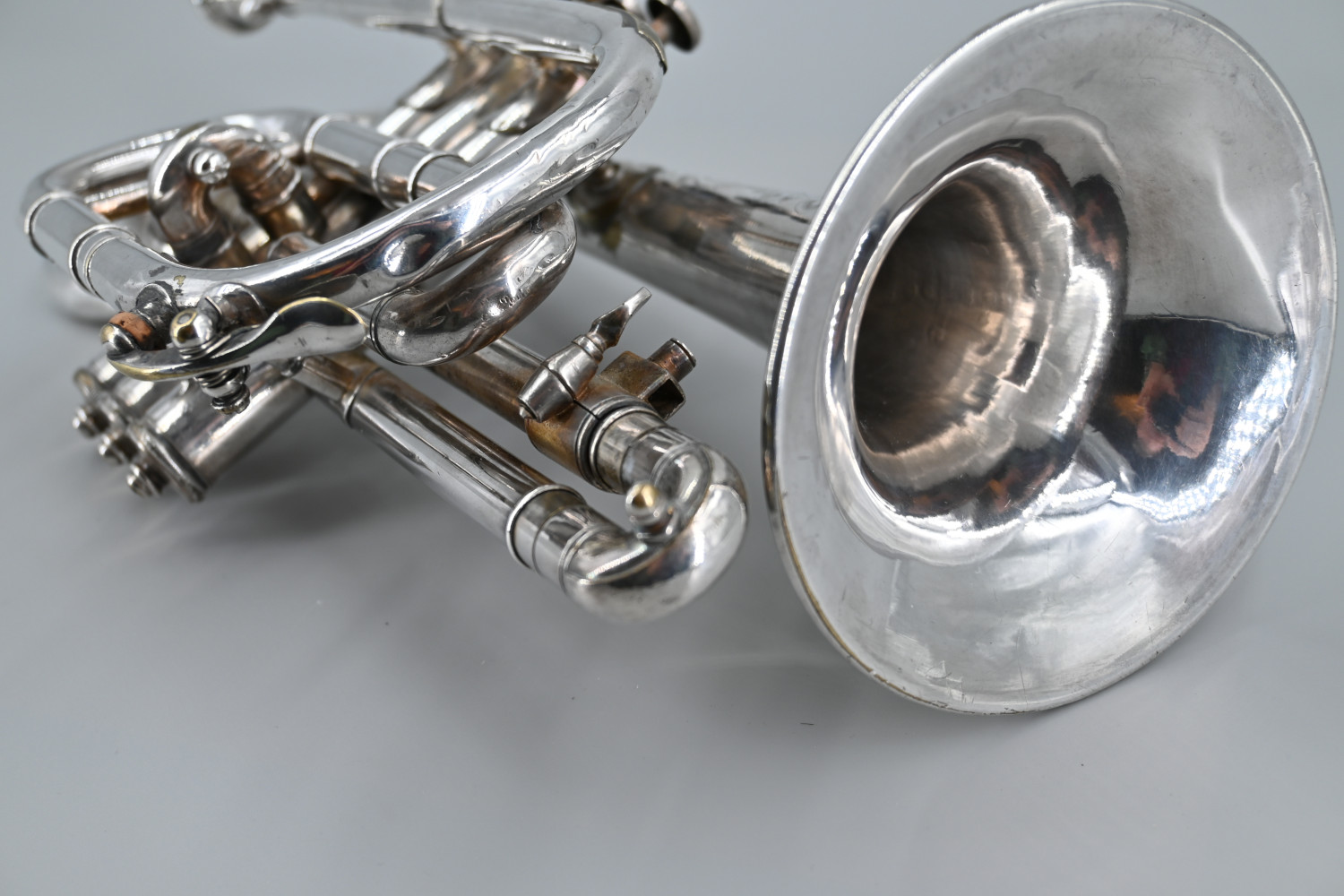 Cornet – Boosey & Co.
450,00 €
Category

Other musical instruments

Marks and inscriptions

"SOLBRON" / REGISTERED / CLASS A / TRADE MARK / BOOSEY / LIGHT VALVE / BOOSEY & CO / MAKERS / 295 REGENT ST. / LONDON / 81347 / P.W & S. LTD
10, 11, 12 (Valves)
65237
MADE IN ENGLAND (on mouthpiece)

Period

1900-present

Place of origin

England

Description

Silver-plated cornet

Materials

Silver plating, brass

Dimensions

Total length 345 mm (inc. mouthpiece)
Weight 1020 g
Weight with case 3270 g

Condition

Sold as is, for restoration

Accessories

Original case (and key!)

Special features

Engraved silver-plating

Price (€)

€450.00

Ref

1037
Description
Boosey & Co. cornet
For sale is a lovely, silver-plated cornet by the English firm Boosey & Co.
The history of Boosey & Company goes back an amazing 200+ years. What started out as a lending library family business in London would turn into a music selling and publishing concern. The company was very successful and it began making brass and wind instruments in the 1850s. However, in 1865, it faced competition from the Hawkes family who started up a rival business. In 1930, the descents of the Boosey and Hawkes families merged the two companies together to create Boosey & Hawkes. Since that time the firm has continued its course with several company acquisitions. It sold its instrument business in 2003.
show more

If we go back to 1868, we discover that Boosey & Co purchased the brass instrument factory owned by the company DISTIN & Co. and employed David James BLAIKLEY (1846-1936). He was a genius in terms of woodwind manufacture at that time in Britain. It seems that Blaikley was not only factory manager, but was also responsible for research and development plus patents, together with his son Arthur. They used bronze for valve pistons and trombone slides to reduce friction. Then, in 1907, the name 'SOLBRON' for the special bronze pistons was introduced – a sort of a combination of 'solder' and 'bronze'.  The 'SOLBRON' light valve cornet was one of the company's topliners.

But when was it made? The trumpet-and-banner trademark, including the wording 'TRADE MARK' and 'BOOSEY' was used from 1879 to 1931. There is also always a pistons number for valve instruments – in this case 65237.  According to the 'GUIDE TO DATING BOOSEY & Co./BOOSEY & HAWKES INSTRUMENTS BASED ON SERIAL NUMBER', published by the Horniman Museum, the serial number 81347 was given in 1911.

This cornet features a beautiful floral design engraved on the bell. It is in really great shape considering its age and comes in a case with key!

show less
If you are interested in this product or need more information about it, please leave us a message using this form. We will get back to you shortly.