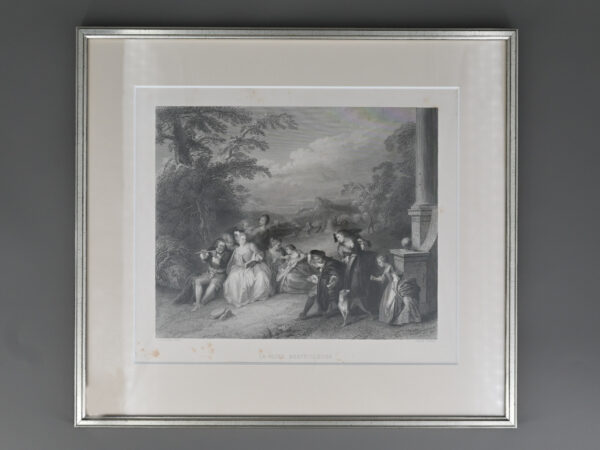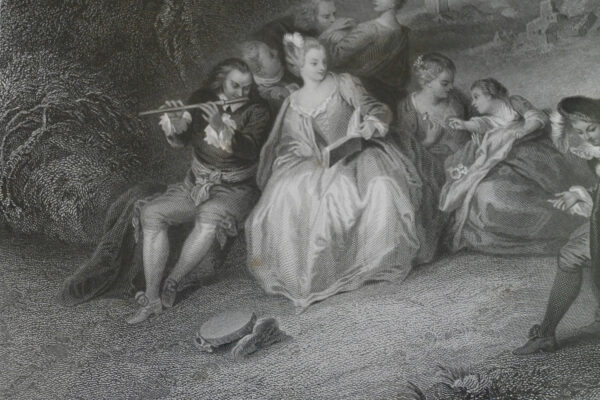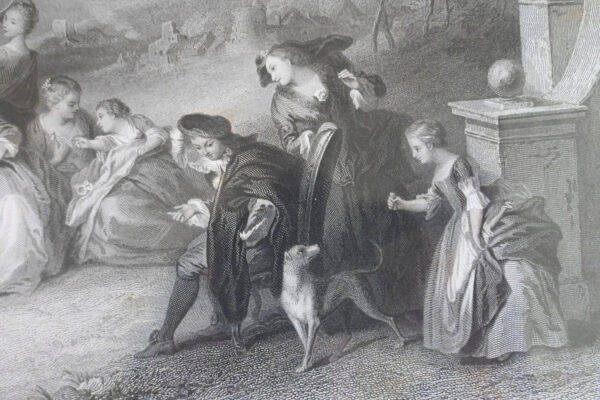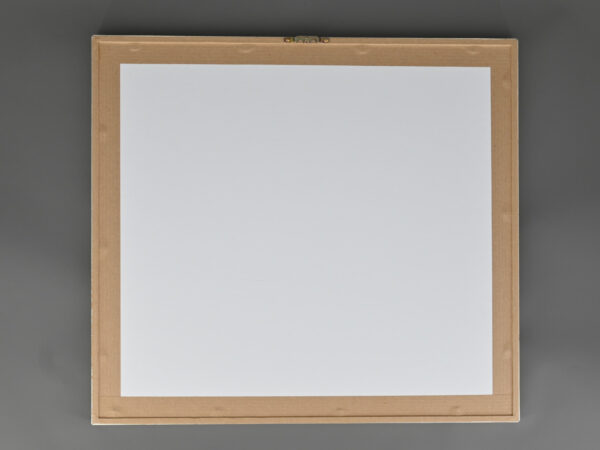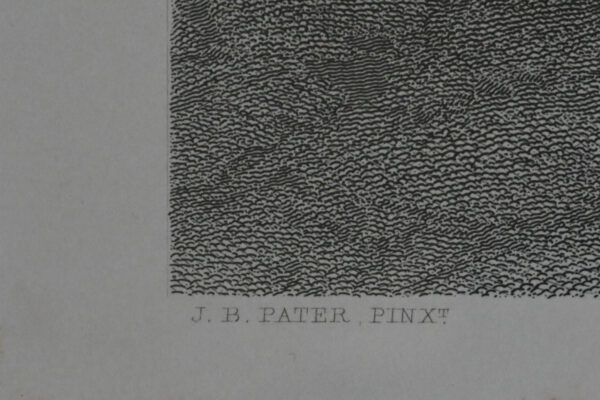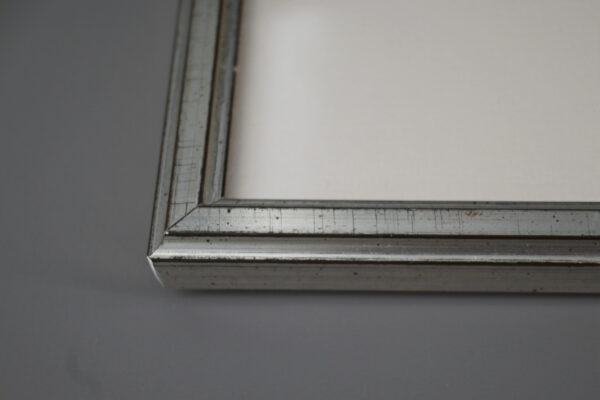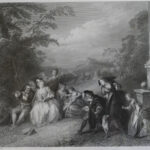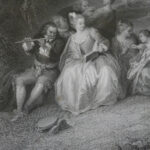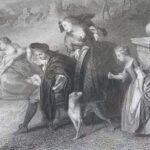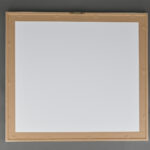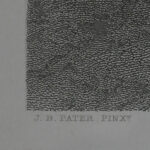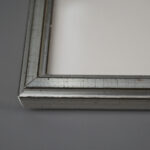 Engraving – PELÉE, Pierre – La flûte merveilleuse
260,00 €
Category

Paintings & pictures

Maker

PELÉE, Pierre
J.B. PATER, PINXT.
LA FLÚTE MERVEILLEUSE
PELÉE SCULPT.

Period

1830-1900

Place of origin

France

Description

Framed engraving entitled 'La flûte merveilleuse' [The marvellous flute]

Materials

Wove paper

Dimensions

Size of engraving 365 x 265 mm
Frame 385 x 350 mm
Weight 945 g

Condition

Restored, fully functional

Price (€)

€260.00

Ref

33
Description
Engraving – PELÉE, Pierre – La flûte merveilleuse
This is a fête galante style engraving by Pierre PELÉE (1801-1871). It was created after a work by Jean-Baptiste Francois PATER (1695-1746), called Fête Champêtre with a Flute Player. PATER himself studied under the master Jean-Antoine WATTEAU (1684-1821) in Paris. This style depicted elegantly dressed aristocrats in playful engagements. The original oil on canvas is kept in the Royal Collection in England. The Collection is housed in 15 royal residences and former residences across the UK. It seems that Frederick, Prince of Wales, might have bought it. It is first recorded in the Bath Room at Buckingham Palace in 1819!
show more

PELÉE was responsible for completing the highly skilled task of engraving the oil painting so it could be printed. He was Swiss, born in Courtedoux in the Canton Jura [where there is even a street named after him]. He was good at engraving from an early age and went on to an apprenticeship as an engraver in Geneva. Then he went to work in Paris. He illustrated artistic and literary as well as historical works. He also did work for the Art Journal in London.

This particular engraving was published in Paris by the printer Charles LAHURE (1809-1887). It was to follow the work by M.J.G.D. Armengaud, published in 1859 called Livre Les Trésors de l'Art 1859.

Here we have a lovely garden setting, perhaps belonging to a huge house. There is a stone column to the right and in the distance, we can see mountains and quaint old buildings in ruins. A seated boy on the right seems to be telling a dog off, while a girl enters with something to eat perhaps for the dog. On the left, a man is kissing a lady's hand, yet she seems to be more interested in the flute player. Another man looks to be telling them to listen rather than court each other. At the front, on the left, sits the flute player, delighting everyone with his music, including the lady who is holding up the music score for him.
The word pinxit from Latin means 'one painted' – so the name of the person responsible for the piece. Scuplt. means image engraved by.

This engraving has been set into a lovely, brand-new frame. Even though it's not the original oil painting and you don't live in a palace, it is ready to be hung on a new wall in your home [even the bathroom!].

show less
If you are interested in this product or need more information about it, please leave us a message using this form. We will get back to you shortly.