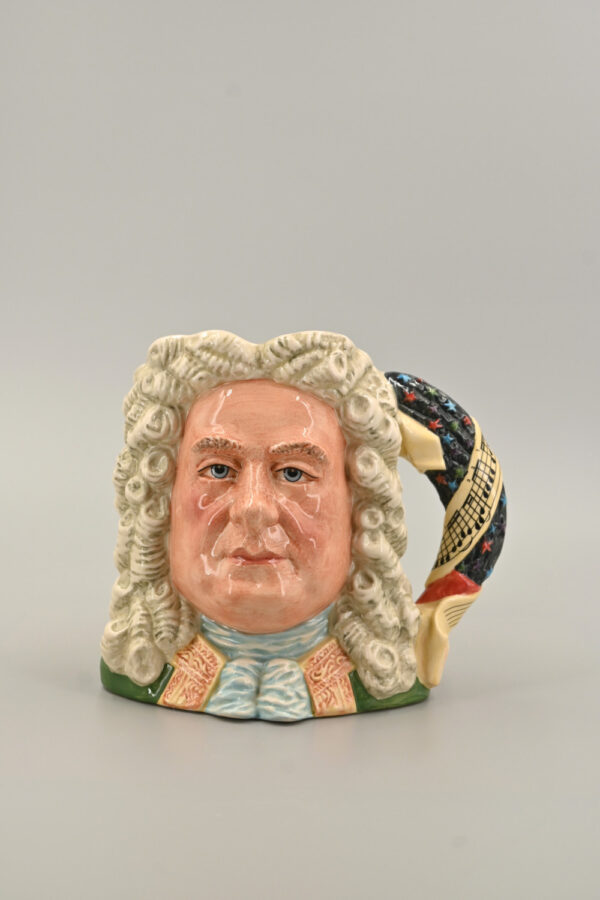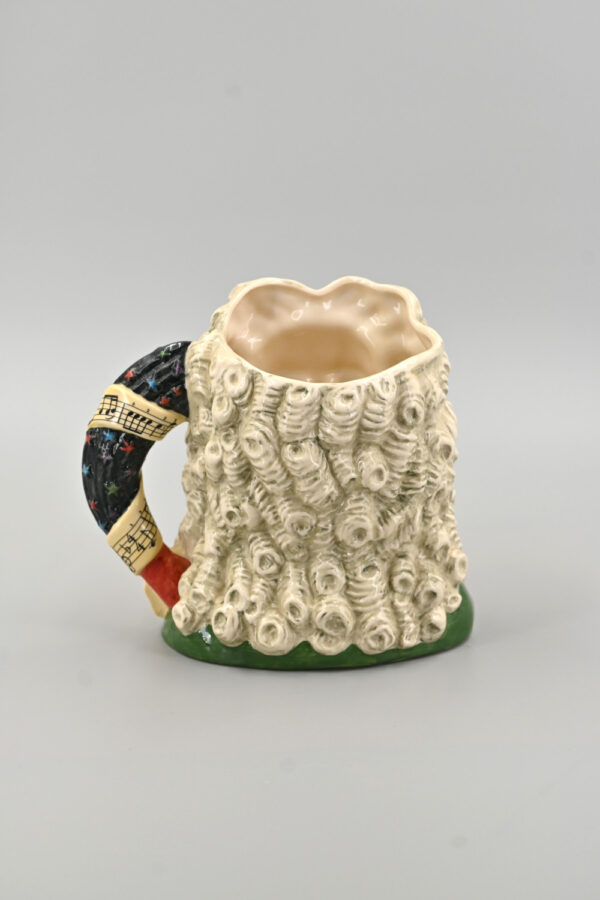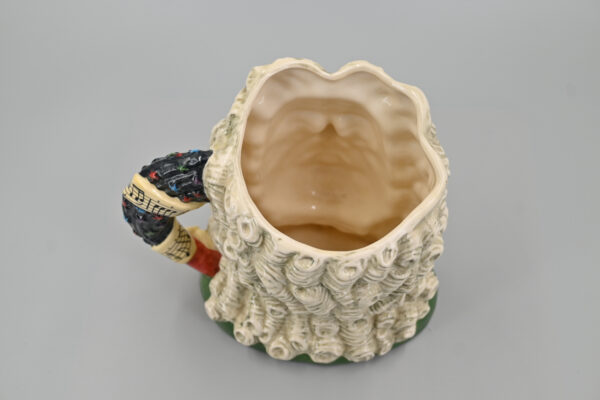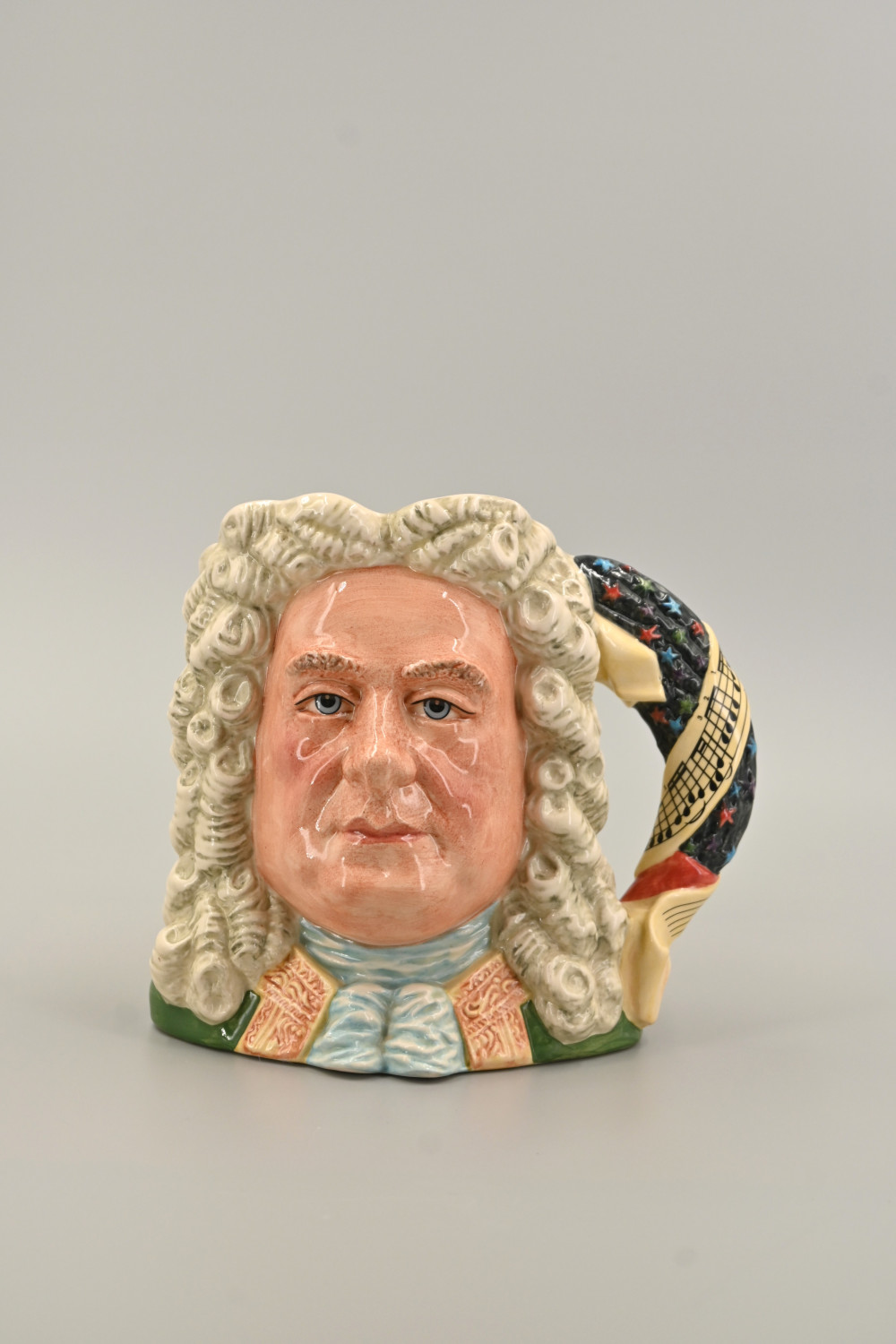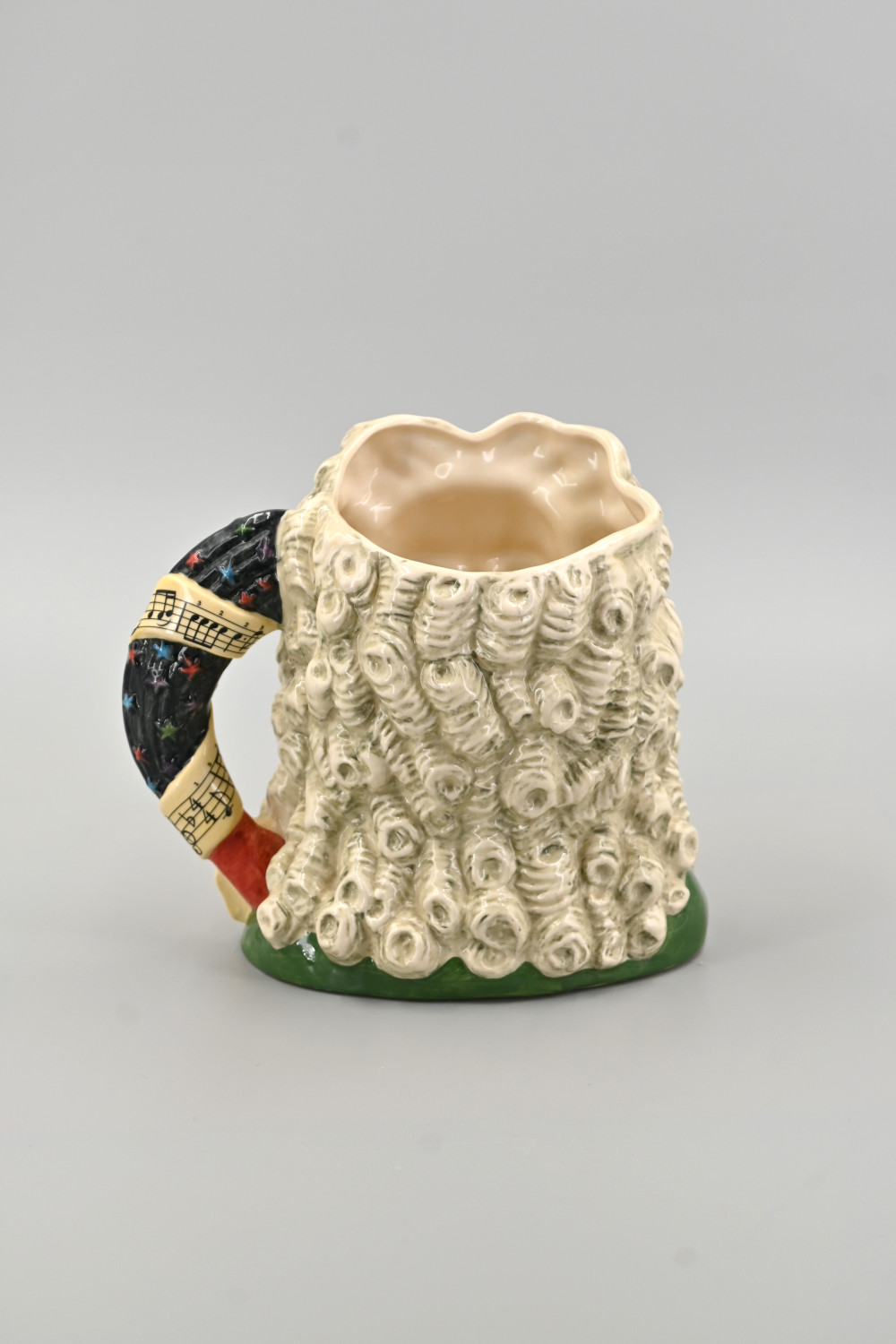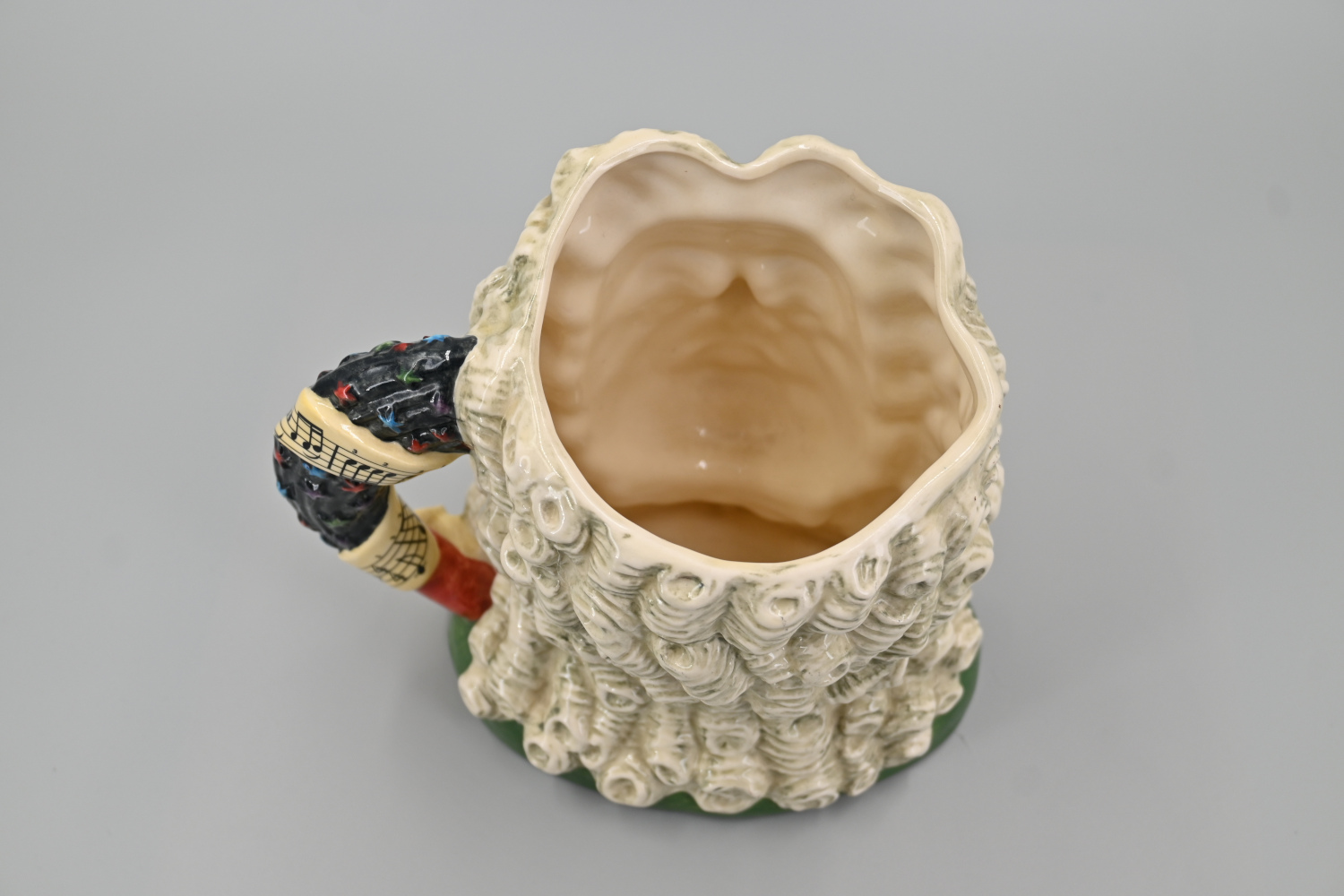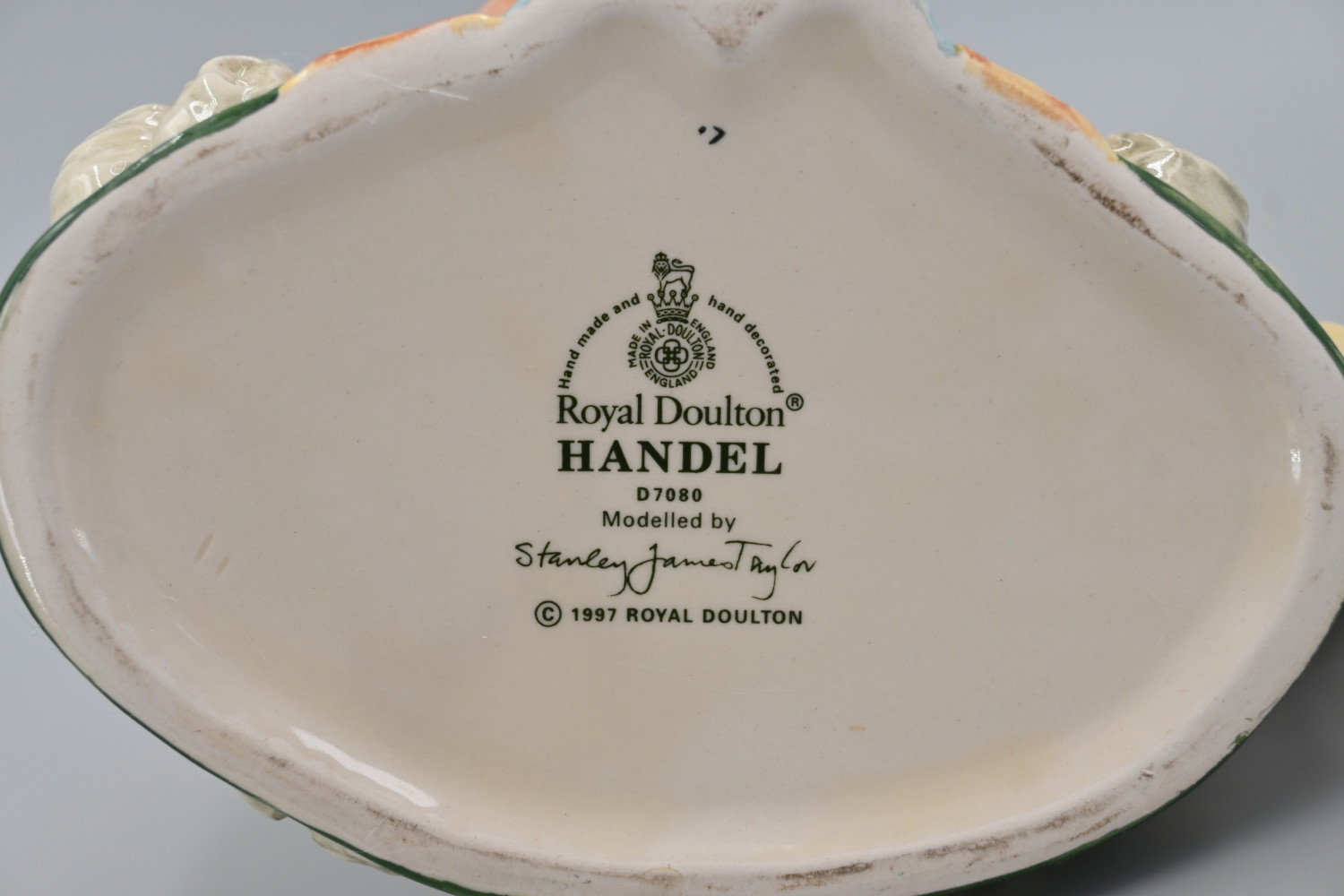 George Frideric Handel Toby Character Jug
149,00 €
| | |
| --- | --- |
| Category | Other collectables |
| Marks and inscriptions | Hand made and hand decorated/Royal Doulton/HANDEL/D7080/Modelled by Stanley James Taylor/1997 ROYAL DOULTON |
| Period | 1900-present |
| Place of origin | England |
| Description | George Frideric Handel Character Jug |
| Materials | Ceramic |
| Dimensions | 170 mm high, 180 mm wide, 813 g |
| Condition | Working condition |
| Price (EUR) | €149.00 |
| Ref | 199 |
Description
George Frideric Handel Toby Character Jug
It's somewhat hard to believe that the company Royal Doulton designed and manufactured a jug featuring the head of Handel – but it did and not just one of him! The Royal Doulton Large Great Composers Character Jugs include a bunch of eight famous composers: Beethoven, Chopin, Elgar, Handel, Johann Strauss, Mozart, Schubert and Tchaikovsky. They were all modelled by artist Stanley James Taylor.
show more

But what are Toby Jugs?

A Toby Jug, Fillpot or Philpot is a pottery jug modelled in the form of a seated person. The original 'Toby Jug' was developed by potters in Staffordshire, England in the 1760s. The jugs tended to feature a plump, happy man holding a mug of beer and a pipe. He wore 18th century clothing, including a long coat and a tricorn hat. The tricorn hat, sometimes with a lid, was the spout for pouring and a handle was attached at the back of the jug. They went on to be made in the form of historical, generic or fictional characters or even animals.

A Toby Jug has the form of a full-bodied character while Toby Character Jugs only feature the head, or face and sometimes shoulders.

So, who was Toby? Our favourite explanation for the name comes from a certain Yorkshireman called Henry Elwes. Henry liked a drink or two… so much so that he became famous for drinking 2,000 gallons of a strong ale called stingo without eating anything!  He was nicknamed Toby Fillpot. There's even a poem and drinking song called 'The Brown Jug' which praises Toby Fillpot and claims his ashes were made into Toby's Jug.

After producing hundreds of character mugs, Royal Doulton ended their production in 2011 with the Jug of the Year, Barrack Obama. For more details on Toby Jugs, visit the American Toby Jug Museum.

Our 1997 Handel is sporting a green and gold jacket, a grey-blue cravat and of course… a grey wig. The music score on the handle [😊] is from Handel's famous 'Fireworks' composition.

Here we have the perfect gift and drinking companion for Handel fans everywhere!
Cheers!

show less
If you are interested in this product or need more information about it, please leave us a message using this form. We will get back to you shortly.